Canara Bank Mini Statement Download by Missed Call, SMS to 09015734734/09015613613 CANDI Mobile App, Net Banking at https://canarabank.com…
The Canara Bank has provided the facility for enquiring of Mini Statement with downloading of latest transactions history by giving a missed call. It provides you to get the 5 latest transactions of the savings or current account statement instantly through an SMS.
Canara Bank Mini Statement Number
Every account holder can access the missed call facility to get their account mini statement instantly. The Canara Bank Balance Check by SMS or Missed Call service is available by registering a mobile phone number through KYC.
The Customers who have registered or linked their mobile phone number can access the Canara bank Mini statement by SMS or by just giving Missed Calls any time & anywhere free of cost.
How to Register a Mobile Number through Canara Bank KYC
It's a very simple process by visiting your responsible branch of the bank. If you have not been able to reach your own branch contact a nearby branch to update KYC. Submit the KYC with a valid mobile phone number. The bank officer can verify and approve your KYC form within a working day.
The account holder of the bank needs to register the know your customer (KYC) from mandatory. After Successfully updating the KYC with a mobile phone number you can access the mobile banking services using the phone number.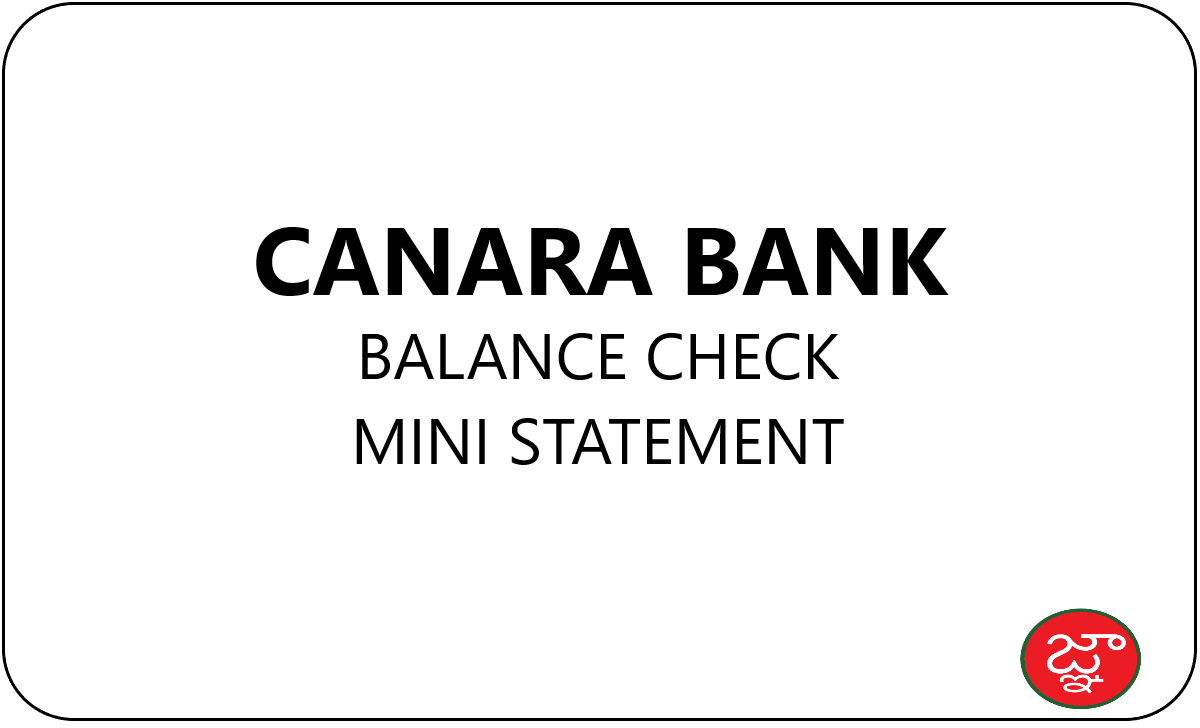 Canara Bank Balance Mini Statement
Transaction history of last 5 transactions checking is the most important service for both savings & current account holders of the bank. Each customer needs to check their mini statement instantly to know about their funds. Canara bank provides the service in various ways like Missed Call service, SMS Based Service, Mobile Banking & Internet Banking.
Here we have shared complete details with steps to check by using the following different most useful ways or methods anywhere 24/7.
By Visiting Nearest ATM Center.
Giving a Missed Call.
Sending an SMS.
Mobile Banking.
Net Banking.
How to Check Canara Bank Balance through ATM
Commonly, every bank ATM centre can provide the service to check mini statements. But the own bank ATM centres provide the facility free of cost for unlimited transactions at any branch. But, charges are applicable if you have used other bank ATMs after reaching other banks.
Follow the steps to check at ATM Center.
Visit nearby ATM Center of your Bank or Other Bank.
Inset your ATM Debit Card and select preferred language.
Choose Mini Statement option and proceed.
Enter 4 Digit PIN Number and press enter.
A printable copy of the statement getting from the ATM as a printout.
An SMS alert is also sent to your registered mobile phone number regarding the transaction of ATM service with complete details.
How Get Check Canara Bank Mini Statement through Missed Call
This is a simple method to get transaction history for the latest deposits and withdrawals instantly as a mini statement unto 5 transactions. Those who have registered their mobile phone number through KYC can access it free of cost at any time. Basic & Smartphone users can access without the internet to know their account balance with a mini statement by following the steps.
Dial below listed Toll-Free Missed Call Number from your Phone.

Open the dial pad of your registered mobile phone, if any Smartphone or Basic Phone

Call the Toll-Free Canara Bank Mini Statement Number.

If you have interred to get in Hindi dial to 09015734734, or getting in English dial 09015734734.

Disconnected your Call after Calling.

Once connected your call to the system it will be disconnected automatically after two rings, verify your account details and send the balance with a mini statement details.

You will get an SMS Alert with the latest transaction statement.

The latest deposits and withdrawals of the account linked with the mobile phone number will be received.
How to Get Canara Bank Mini Statement by SMS
Anyone who needs to get their transaction history of the account can dial 09015483483 from the registered mobile number to get the transaction history by SMS. Like as above steps dial the Toll-Free Number to get through SMS.
What is Canara Bank Mini Statement Toll-Free Number?
There are two different phone numbers are provided to check the balance that supports Hindi & English. Below TOLL-FREE Numbers are official numbers to get statements through Missed calls & SMS.
How to Get Canara Bank Mini Statement?
Mini Statement means a short statement of the account that maintains the latest debit/credit or deposits/withdrawals. Canara Bank also provided the Mini Statement to all savings & current account holders by Missed Calls, SMS, Mobile Banking App, and also from Internet Banking services.
Below we have shared the information to get through Mobile Banking & Internet Banking Services. We already discussed balance check with getting mini statement by missed call & SMS based facility above.
Follow the process to generate a mini statement with month & year wise balance statements through Mobile Banking and Interment Banking services.
How to get Canara Bank Mini Statement through CANDI MOBILE App
CANDI MOBILE is a mobile application that supports Android & IOS users developed to serve mobile banking services to both savings & current account holders of the bank. Smartphone users can install the app to access all banking services along with downloading mini statements and more.
Here are the steps to get by CANDI MOBILE App
Install the CANMOBILE App on your Smartphone.
Open the App, and log in using User-ID & PIN.
Select Enquiry Services, Next to Select Mini Statement Enquiry.
Enter M-PIN, then Mini Statement is displayed includes 5 recent transactions.
Canara Bank Mini Statement with Monthly & Annualy by Net Banking
Internet Banking is the ultimate destination to access self banking services. Statement generation & downloading in Pdf & Excel to monthly & annual statements are possible by the following simple steps from Canara Bank Retail Login.
Login into the Canara Bank Retail Banking Services portal through https://candi.canarabank.in/.
Complete the process login using username & password by entering security test.
Go to the "Statement's" section and choose Mini Statement, 1 Month, 3 Months, 6 Months, 1 Year as per required.
Hit on generate option, then the statements are generated to download and take a printout.
Download as Excel & Pdf format, save the future reference.
Can I Check my Canara Bank mini account statement without the internet?

Yes, Dial the missed call based balance check number to get a mini statement of up to 5 transactions.

How can I check my Canara Bank mini statement?

Multiple ways are available to generate a mini statement, the above process helps to know your balance with a mini statement.

I Can access mobile banking services using the basic phone?

Possible to call phone banking officer, call using registered mobile phone number to customer care number and connect phone banking officer.

How can I check my Canara Bank mini statement offline?

It's possible by Calling the missed call numbers as per the above discussion.

Which is the supported one to get mini statement, Smartphone or Basic phone?

No difference, both are supported to get balance with mini statements using the SMS & Missed call numbers.

What is the official Canara Bank Mini Statement Missed Call Number?

The Bank is maintaining those numbers are official to check and generate balance statements.
09015734734 (For English Mini Statement), 09015613613 (For Hindi Mini Statement), 09015483483 (Balance by SMS)