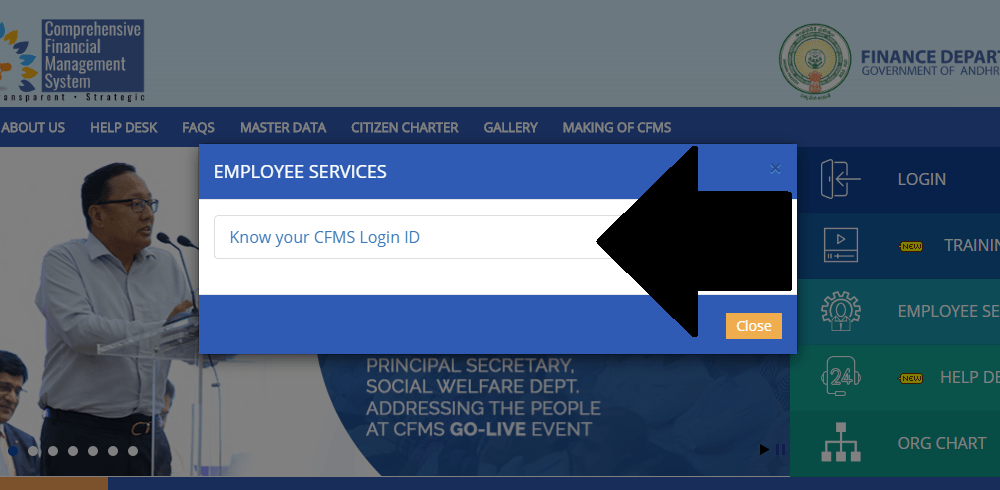 AP Government Salaried Employee can get New CFMS ID by using old Employee ID and Bank Account Number, or PAN Number, or Aadhar Number or by using Your Name…..
The Government of Andhra Pradesh and the state Comprehensive Financial Management System (CFMS) is given the felicity to get new user login ID by old employee ID and he/she Beneficiary details through online, the salaried employee can get new CFMS ID by old id number and search beneficiary details by using account number details.
Andhra Pradesh Centre for Financial Systems and Services (APCFSS) is given the felicity to know about to know about CFMS New ID in both way's, here we have provided simple steps to search using different way's with easy process just follow.
Visit Comprehensive Financial Management System of AP official website of https://cfms.ap.gov.in
At home screen of the portal you can see EMPLOYEE SERVICES option
Now proceed with the option, a new window is opened show a option about Know your CFMS Login ID, for more clarity follow the screen slot.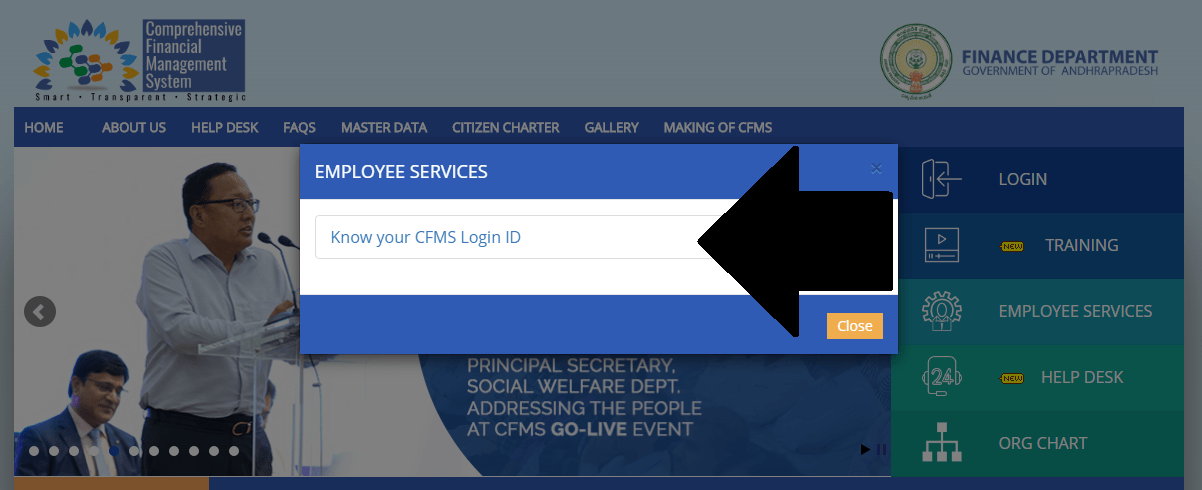 Now proceed with the link, then you have seen now page to
Enter Old HRMS Employee Code (7 Digits)
Now enter your old employee ID and search to get CFMS New User ID to login
Every employee can get their new login details with using their old 7 Digit ID number, and there is second option also available to search CFMS New Login ID through Bank Account Number, or PAN Number, or Aadhar Number or by using employee name.
Follow the steps to get your new ID details through Beneficiary Search option, and here is the steps.
Follow the link about CFMS Beneficiary Search
Now you have seen following screen with multiple options with search option

Now you can use any option on the list and enter the details
Now proceed with search option
Then complete details of employee and ID number along Beneficiary Code, Beneficiary Name, Beneficiary Address and etc
That's now you can get your APCFMS New ID, now you can download Employee Salary Slips, Particulars and statement details also, here we have provided complete details with step by step by process just follow to know.
Download CFMS Employee Salary Slip
Download Payslip by employee ID or Treasury ID