You can consider CSP as a small bank of some kind. As you know, many of the remote villages don't have banks. Due to this, they had to face a lot of problems, keeping this in mind, PM Narendra Modi has given nod to the opening of CSPs in these villages. The major work of these CSPs is to provide banking services required by the villagers in their own area. If you are in the banking sector than you can also open Customer Service Point for sure.
How to open CSP (Customer Service Points)/Grahak Seva Kendra?
If you want to opengrahak seva kendra/CSP than you can use any of the two below mentioned methods –
Through Bank CSP
Through Company CSP
1) Through Banks CSP: – If you want to open CSP of any particular bank than you have to contact the bank. You have to approach the bank manger of that Bank and discuss about the possibilities and avenues that the CSP can bring for both of them. But a bank manager can only give you the permission to open the CSP if you possess the minimum educational needs mentioned in the policy document which allows the opening of CSP in any village/District.
If you possess all the documents required for the opening of CSP, show it to the Bank Manager. If the Bank Manager gives permission, you will get a Username and Password with the help of which you can open a CSP. For opening the CSP, you can take a loan of up to Rs. 1.5 lakh from the bank.
2) Through Company: – For opening the CSP, there is one more alternative. You can contact some companies. There are many companies that can help you in setting up the CSPs. But before tying up with any company, you must ensure that the company is genuine and will continue to support you for long. There are some special companies like – Vyam Tech, FIA global, Sanjeevani, Oxigen etc. that can help you in the setup of CSP.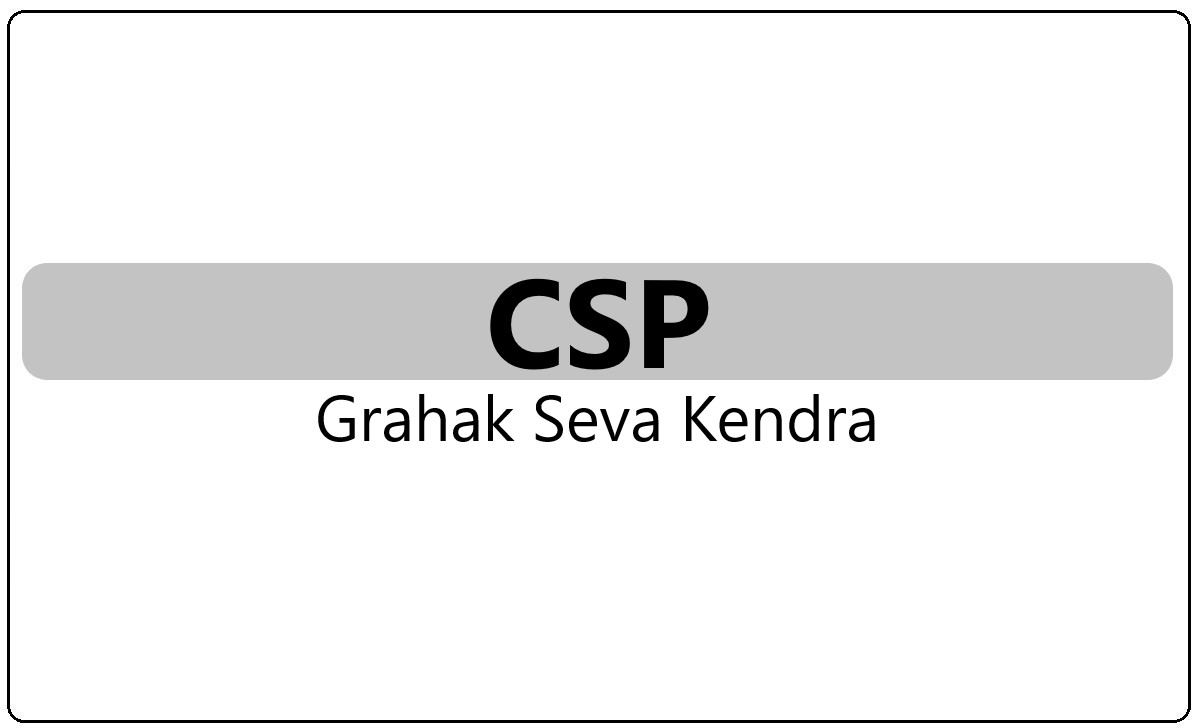 What works are being done at Grahak Seva Kendra's?
CSP (Graahak Seva Kendra) provides all the services that are related to Banks. The ultimate aim behind the CSP is to give Digital India mission a boost. All the services related to bank will be brought to those remote villages where there are no banks. The works done at the CSP Centre are as follows: –
Opening of Bank Account
Linking of newly opened bank account with Aadhaar Card and PAN card.
Transfer of funds from one bank to the other.
Opening of FD and RD account.
Withdrawal of money.
Deposition of money.
Commission Earned After Opening CSP
Nobody will start any work until there is any monetary benefit involved in it. Well, if you open a CSP, you will get commission. The commission rates differ from bank to bank. To open a bank account through Aadhaar one gets commission. One even gets a commission if one links Aadhaar card to the existing bank accounts. The commission rates fixed for such works are as follows: –
If one opens an account with Aadhar Card, one gets 25 Rupees as commission.
If one links Aadhaar card to the existing account, one gets Rs. 5 as commission.
If one helps people either to withdraw or deposit their money in their account, 0.40% wil be the commission for each transaction.
1 Rupee commission for registering people for Pradhan Mantri Suraksha BimaYOjana.
Eligibility/Qualification for Opening CSP
For opening a CSP (Grahak Seva Kendra), one must fulfil following conditions: –
He/She must be a Permanent Citizen of India.
Must be of minimum 21 years.
Must have at least passed the matriculation (10th) exams.
Only those educated individuals will get a chance who are unemployed and do not have any financial support.
Those who are responsible citizens of the country and are laborious will get first preference.
Physical Setup Required for Setting up a CSP
There are some physical requirements which are essentially required to be fulfilled before opening a CSP account. These are: –
Outlet of about 250 to 300 square feet.
One counter for people.
Own Desktop or Laptop.
High Speed internet connectivity (Dongle/Broadband).
Electricity Backup.
Some facility or place for the customers to sit.
Document Requirement for Opening CSP
There are many documents which will be required by the bank or company before giving permission to open any CSP.
Voter ID Card.
Driving License
PAN Card
Aadhaar card
Color Passport Size Photograph
Papers of shop agreement.
Character certificate verified by police with police verification letter.
How to Register for CSP?
Well, one can easily apply for opening CSP. There are two methods for this – online and offline. First, I am discussing about the online method of opening the CSP.
First open the official site of the Digital India CSP. You can also click https://www.digitalindiacsp.in/ to open the site.
On the homepage of this website, click on the menu and select 'Online Register' from the dropdown menu.
Now, you will be able to see a form in front of you. Fill in all the information asked on that page like Name, Father's name, educational qualification, date of birth etc.
After filling all the details, upload the documents asked for in the form.
At the end, press the 'Submit' tab present at the bottom of the page.
The process of Online registration ends here.
Helpline Number and Contact Details
If you want to make further queries related to the CSP you can contact through mobile or email ID.
Mobile: – +91 9073570674
Email: – info@digitalindiacsp
Address: -Digital India Oxygen Private Limited 1137, R G Towers, Airo Showroom, Bangalore – 560038
What services are provided at CSP?

All the services related to banking

What is the major aim behind CSP?

To provide banking facilities to the people in rural areas.

What will the villagers get from the CSP?

The middle or lower class will get a chance for opening bank account and saving their money. Their economic condition may improve with the help of this.

Who can apply for opening CSP?

Educated young people who are responsible and are unemployed.

Can we get all the banking facilities under CSP?

Yes, most of the banking services have been linked to the CSP.

Are any other government schemes included in services of CSP?

Yes, with the banking facilities, other related government schemes are also included. The services for those schemes can also be availed at CSP.