Searching for Ration Card Details Online is simplified through the National Food Security Portal, Known as NFSA Portal, introduced by the Department of Food and Public Distribution, Government of India. Every Citizen of the Country who has a Ration Card can search their details by name through the statewide portals of NFSA.
NFSA
Department of Food and Public Distribution has designed and introduced the NFSA Portal to search Ration Card Beneficiaries lists under NFSA for all States and UTs of the Country. Everyone can easily access their ration card information through the NFSA Portal in simple steps.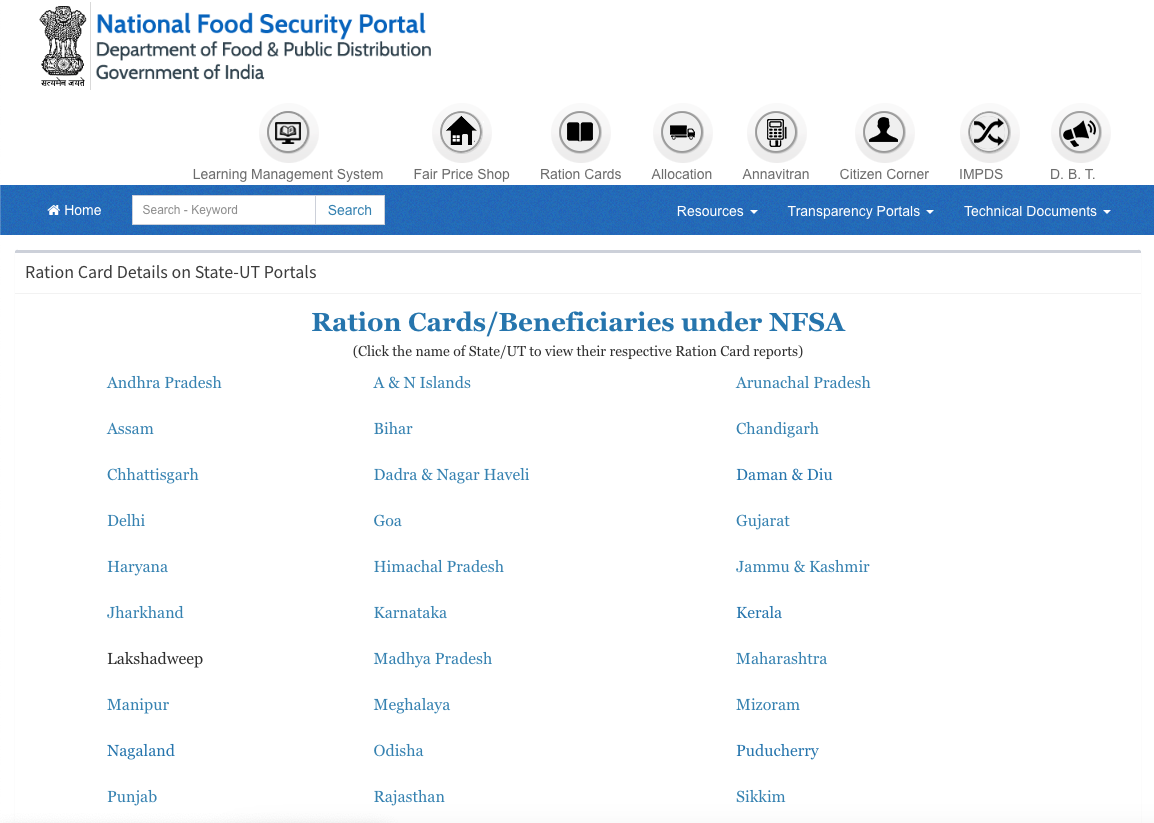 How to Check Ration Card Details Online by Name
Every Citizen of the country can follow the steps to check ration card beneficiaries lists under the NFSA portal, and we have suggested simple steps to check your ration card details online by using the names of the beneficiaries.
Visit the NFSA Portal and Select the 'Ration Card Details on State Portals' option by following the main menu options.
Now, you have seen a list of States and UT portals.
Select and Proceed with your responsible state name to UT by following the list.
Now you have Redirectd to your responsible State EPDS Portal.
For Example, Bihar EPDS Portal at https://epds.bihar.gov.in/.
Select your District.
Now you have seen complete ration card information about the state, such as Rural, Urban, PHH Cards, PHH Members, AAY Cards, AAY Members, Total Cards, Total Members.
Select and proceed with the screen option by selecting Block, Village, and other relevant information. You can see a list of ration card holders with complete information about S.NO. Ration Card, Card Type, Ration Card Holder Name, Father Name, Number of Family Members, FPS Dealer etc.
Now you can find out your name from the list and click on Serial Number of Ration Card to View it on the screen, now you can print and use the digital format ration card as a original card.
How to Know the Current Status of Ration Card
Visit the NFSA Official website at https://nfsa.gov.in.
Proceed with the 'Know your Ration Card Status' option located on 'Citizen Corner' on the main menu options.
Select the Search type as 'Ration Card Number.' Now enter your ration card number on the Search Expression column.
Verify the Captcha code for security and proceed with 'Get RC Details' to get the current status of your ration under the NFSA Portal.
How to Print or Download e-Ration Card at nfsa.gov.in
Once you have found your ration card details by searching name of the ration card or ration card number through their state EPDS portal can seen print option to make printout. However we suggested simple steps to download or print your ration card online.
Visit the NFSA Portal and proceed with the 'Ration Card Details on State Portals' link.
Search your Ration Card details by selecting your State, District, Block, and Village details on your state's responsible EPDS portal.
Or Search by Ration Card Number on the NFSA Portal.
Everyone can seen their ration card digital format on the screen, now you can proceed with print option to make printout or save as a Pdf file format.