ICICI Bank Balance Check Number 9594612612 announced for Balance Enquiry by Missed Call, Balance Check, SMS, Email, Passbook, ATM, UPI, WhatsApp, USSD, Customer Care Helpline, iBizz ICICI Corporate Banking, iMobile Pay by ICICI Bank, Mera Mobile and Net Banking Facility at https://www.icicibank.com…
Everyone knows that the ICICI Bank is one of the biggest banks in India. This bank has several branches around the nation and has millions of customers. People have interested to open their savings account at the ICICI bank because of its amazing services. Many individuals wish to get an ICICI Balance check thus you can study all numerous approaches on this guide to know the available balance in your ICICI Savings Account. It becomes essential to verify the available amount in your account since it helps to predict future financial goals. Let's study all the accessible ways to do an ICICI Balance Enquiry.
ICICI Balance Check Number
The ICICI Bank (Industrial Credit and Investment Corporation of India) has offered multiple methods along with Toll-Free Numbers to check the account's available balance and access to various banking facilities. By using the ICICI Balance Check Number, customers can access their final available balance of the fund through Missed Call Banking, SMS Banking, USSD, WhatsApp, and other ways.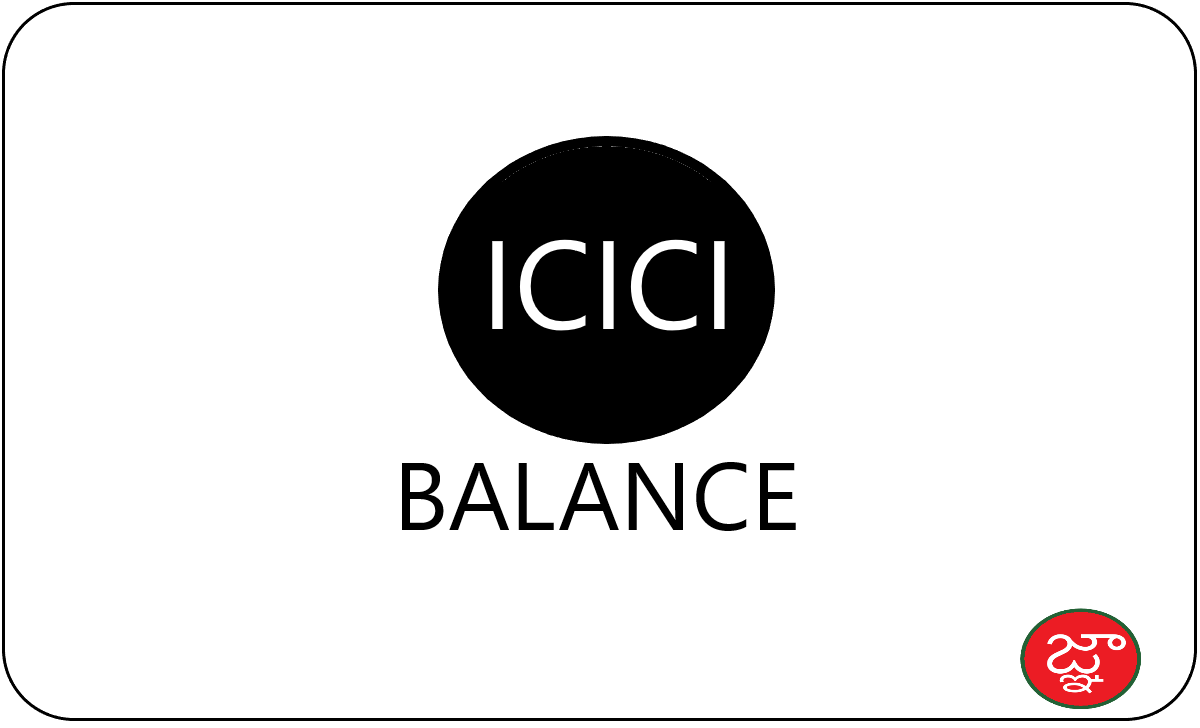 Toll-free (Customer-care) Number: 18601207777
Balance Check Number: 09594612612.
SMS Banking Number: 09215676766.
Balance Check USSD Code: *99*44#.
WhatsApp Banking Number: +91 8640086400.
ICICI Bank Balance Enquiry
Costumers of the bank can use the listed method to make balance enquiries. There are multiple online & offline ways are introduced to know account balance. Advised to use mobile banking facilities to quick balance enquiry from the listed ways.
Passbook Printing.
ATM Center.
SMS Banking.
Missed Call Banking.
WhatsApp Banking.
USSD Service.
Customer Care.
iBizz ICICI Corporate Banking Mobile App.
Mera Mobile App.
iMobile App
UPI-Apps
Net Banking.
WhatsApp Banking
Emailing to the Bank.
ICICI Missed Call Number
The customer must first check that ICICI has registered his/her mobile number. Apart from that, the customer must initiate service activation. This may be performed by calling or texting the ICICI customer care section to activate the service. Once it is resolved, the customer only has to make a missed call to 09594612612.
Like All Bank's Balance Enquiry Missed Call Number. the ICICI also introduced a missed call number and it's an innovative facility provided to make balance enquiry through missed calls.
ICICI Bank Missed Call Number: 09594612612.
How to do Banalce Enquiry through ICICI Missed Call Number
ICICI Bank's Quick Account Service enabled access with a missed call. It's a fully free service without restrictions under the phone banking section. The following steps will assist you in setting up ICICI Missed Call Banking.
Dial 09594612612 from the ICICI's linked mobile number.
Once the call connected, it was automatically terminated after a single ring.
Following that, you will get an SMS with your available balance as verified by ICICI servers.
Please Note: ICICI's Missed Call Banking service is available free of charge from everywhere in the nation, 24 hours a day.
Know more about missed call banking to make balance enquiry through missed call.
How to Check ICICI Bank Balance through Customer Care
Customers of the bank can make balance enquiries along with the customer care helpline number. By calling to helpline number balance inquiries is accessible by following IVR'S options choices, which is different from missed call banking.
ICICI Toll-Free Number is very useful since it is available 24 hours a day, 7 days a week across India.
Call 18601207777 from the assosiated phone number of the account.
Follow the IVR menu options and choose 'Balance Enquiry'.
Instantly the ICICI bank servers verifyed the phone number assosiated account available founds and respond with the available balance.
If you are dissatisfied with the information supplied by the IVRS, contact the phone banking officer to discuss the balance.
How to check ICICI Bank Balance through E-mail
To know your account balance you can directly write an e-mail request write a query from your registered email id to care@icicibank.com. To Know more about balance enquiry through Customer Care helpline.
How to Check ICICI Balance by SMS
You may use the ICICI Bank SMS service to inquire about your account balance and other account-related information, such as recent transactions. To get information about your ICICI Bank account balance through SMS, take these steps:
Following registration, you will get a confirmation message indicating that your registration was successful. You may now send and receive SMS messages from ICICI Bank.
To check your account balance, send an SMS from your registered mobile number to 9215676766 with the keyword IBAL.
Ex: SMS IBAL to 9215676766.
How to do Balance Enquiry through ICICI Net Banking
Customers may also check their ICICI Bank balance online using net banking.
Customers may see their ICICI Bank account balance by logging in at https://www.icicibank.com.
Following that, customers choose retail user or corporate user, and login by provideing their username and password.
You may now view your balance on the net banking dashboard after logging in.
Additionally, you may access prior transactions, get a mini-statement, and more by using a net banking feature.
How to do ICICI Balance Enquiry through ATM?
Balance Enquiry for ICICI Bank account may also be checked using an ICICI Bank ATM or any other debit card. To inquire about your ICICI Bank account balance, you must visit an ICICI Bank ATM or any other ATM.
The following is a step-by-step instruction for checking your ICICI Bank bank balance:
Insert the ICICI Bank ATM cun Debit Card in the ATM slot.
Select 'Balance Enquiry' from the drop-down menu.
The balance will be shown on the screen upon selection.Know more about How to Check Bank Balance by ATM.
How to do Balance Enquiry through ICICI Mobile Apps
ICICI Bank Mobile Banking Applications enable customers to conduct banking transactions at any time and from any location. Customers of ICICI Bank must register for mobile banking services by texting IBAL to 9215676766 from their registered mobile number. Additionally, you may activate mobile banking services at any ICICI Bank ATM or branch.
Balance Enquiry through ICICI InstaBiz App
iBizz ICICI Corporate Banking enables Business Banking, Corporate, and Institutional clients to do financial transactions anytime and anywhere using their mobile phones and tablets. The iBizz ICICI Corporate Banking application is available for download on both Google Play and Apple App Stores. Current account holders may use the InstaBIZ Mobile Banking application.
Balance Enquiry through ICICI iMobile Pay
Login into the iMobile App through MPIN or Biomatrics.
On the dsahboard you have seen your account number, below that tap on 'View Balance' option.
Then you have seen available funds on the screen.
How to Check ICICI Bank Account Balance by Passbook Updating?
When you create a new ICICI Bank account, each bank provides you with a passbook. It includes information about all transactions.
You may also check the balance of your ICICI Bank account using your updated passbooks.
Customers may update their passbook at any Bank branch.
How to Check ICICI account balance through UPI?
ICICI Bank joined UPI to deliver smooth money transfer services to its customers. ICICI Bank UPI may be accessed using iMobile or Pockets, their current mobile banking apps.
ICICI Bank UPI enables all bank account holders to send and receive money using their mobile number using a single identifier – the Virtual Payment Address (VPA) or UPI ID. Customers don't need to know the beneficiary's or payer's IFSC code, making transactions faster. So customers may trade faster with friends and retailers.
Customers of ICICI Bank may utilise UPI through the iMobile app, while non-ICICI Bank customers can use it via the Pockets app. To utilise UPI, you must have an Indian bank account connected to your mobile number. Multiple bank accounts may be linked to a single ICICI Bank UPI account.
Other famous UPI payment applications include NPCI's BHIM and commercial enterprises like Paytm, PhonePe, Google Pay, and Amazon Pay, iMobile Pay. Ensure your bank account has your mobile number for authentication.
How to do Balance Check by ICICI USSD Code
USSD, or Unstructured Supplementary Service Data, enables customers to access mobile banking services without a smartphone or data/internet connection. Follow these procedures to check your ICICI Bank account balance using USSD.
Register your phone number with your bank.
Dial *99*44 # on the phone dialer.
Choose the language that is most convenient for you.
Enter the first three letters of the account number, the IFSC code, or the two-digit bank code, and then click Send.
Now, just follow the on-screen directions to check your account balance.
How to do Balance Enquiry through ICICI WhatsApp Banking
To begin, save the Official ICICI Bank WhatsApp Banking Service Number +91 8640086400 to your contact list on your mobile phone.
Now, initiate a WhatsApp chat by sending a message with the subject line "Hi" to begin utilising the Union Bank WhatsApp Banking Service.
First, open WhatsApp and send a 'Hi' message.
The bank will react with a menu selection.
Select and reply to the balance question with the proper response.
You may then choose your account's available balance through a WhatsApp message.
Follow the link to subscribe to the ICICI WhatsApp Banking Services.
To know more about How to Check Bank Balance by WhatsApp or visit the nearby branch of the bank or call the customer care helpline to get complete details.