Safe Removal/Unlinking/Deleting of Saved Bank Account & Debit/Credit Card Details from Mobikwik App & Website at https://www.mobikwik.com…
Mobikwik is a renowned payment App in India that is widely used to do mobile recharge, bill payment, DTH recharge, etc. There is an option in Mobikwik which provides its user with an option to save the details of their bank cards. Here, a user can save the details of the card which he/she uses frequently while making their transactions through Mobikwik.
Sometimes, it happens that we change our bank or we change to a new card. In this case, we might need to remove our saved details of the old card from Mobikwik. The process to do so is very easy. Here, we will discuss in detail how to remove saved card details from Mobikwik App.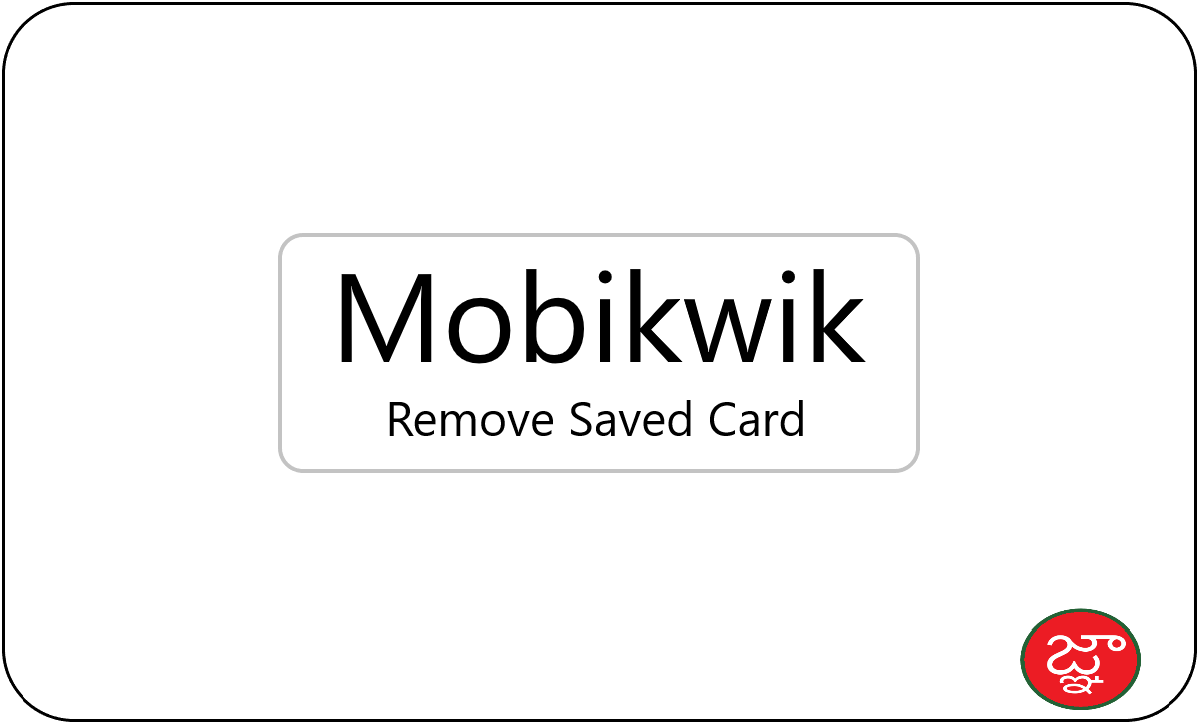 How to Remove Saved Card Details from Mobikwik
The Mobikwik is running in both ways of Mobile App & Web Application. Follow the steps discussed below to remove the saved card from Mobikwik App & website
Steps to Safe Remove or Unlink Saved Card (Debit Card & Credit Card)
Visit the Website or Open the Mobikwik App

First, open the Installed Application or official web page of 'Mobikwik'. Alternatively, you can click https://www.mobikwik.com

Login to Mobikwik by RMN (Registered Mobile Number & OTP)

You will see a Login button on the upper right-hand corner of the website, click on that to User Login. On the new page, you will be asked to enter your registered mobile number (RMN). Enter it. you will receive an OTP on your mobile number. Enter the OTP and click on the 'Login' tab.

Go to Your Profile

Now, you are logged in to the Mobikwik account. On the main page, you will find the Profile icon at the right-hand side top corner. Click on that.

Go to My Wallet

From the drop-down menu, select the 'My Wallet' option.

Check your Wallet Balance & Select Saved Cards

A new page will appear with many options like history, available balance, super cash, redeem, etc. Select the 'Saved Cards' option present below the 'Balance breakup'.

Select a Card & Remove it

A list of all the cards saved by you on Mobikwik will appear on the new screen, with the 'Remove' button in front of each card. Select the account that your want to remove and then press the 'Remove' tab present in front of it.

Confirmed the Removed Card

As soon as you will press the 'remove' button, a popup window will appear asking you a question 'Are you sure you want to delete this card?'. Here, you need to press the 'OK' button if, you are sure. You can even press the 'Cancel' button if you want to recheck the card number etc.

Press OK to Remove your Saved Debit or Credit Card

If you have pressed the 'OK' button. rest assured that your card has been removed. If you want to remove multiple cards follow the same process.
How to Remove or Unlink a Bank account from Mobikwik
In case, you want to remove the registered bank account, the process is a little bit different. Though you will see an option labelled as 'linked bank account', you will not be able to remove the bank account details from there. There is no online option to remove the bank account. You need to contact the customer service department/desk of Mobikwik and request them to remove your account. To access the help page of Mobikwik, you can press https://www.mobikwik.com/help.
How to Deregister UPI with MobiKwik
Open and Login Mobikwik App by MPIN or Biomatrics.
By pressing the Menu choose Security option.
Then, in the top right-hand corner, click on the three vertical dots.
Deactivate UPI in Mobikwik by tapping on "Deregister UPI".
How can I remove my card details from Mobikwik?

The 'My Wallet' option allowed to remove saved cards from the account from the user level. By visiting 'My Wallet' you can remove any saved card like a Debit card, Credit card

How can I delete my Mobikwik UPI ID?

By creating the support ticket the Mobikwik remove the saved UPI Details from your account like bank account unlinking

How can I unlink my bank account from Mobikwik?

From the helpdesk of Mobikwik, you can remove or unlink the saved bank account details. Make a call to customer support or raise a support ticket to unlink bank account

How can I unlink my bank account from Mobikwik?

You can unlink the saved bank details through the support team of MobiKwik, right now there is no option to remove or unlink from the user level