TS ZPGPF Annual Slips 2024 Download for Telangana Employee ZPGPF Announ Account Statements (తెలంగాణ ఉద్యోగుల ZPGPF వార్షిక స్లిప్‌లు) and Zilla Parishad General Provident Fund Slips Download for TSZPGPF at http://epanchayat.telangana.gov.in/zpgpf/…
Government of Telangana, Department of Panchayat Raj, and Rural Development have provided (TS ZPGPF వార్షిక స్లిప్‌లు 2024) the service to download Zilla Parishad Employee General Provident Fund (GPF) Annual Slips, ledger card, and statements through TS ZPGPF Subscriber Interface. ePanchayat – PRIs Suit of Applications portal.
Every Zilla Parishad Employee of Telangana State can download their GPF annual statements from the website of TS ePanchayat, here we have given guidance with step by step downloading process, every TS ZP Employee can follow the steps to get complete process about he/she annual slips and etc.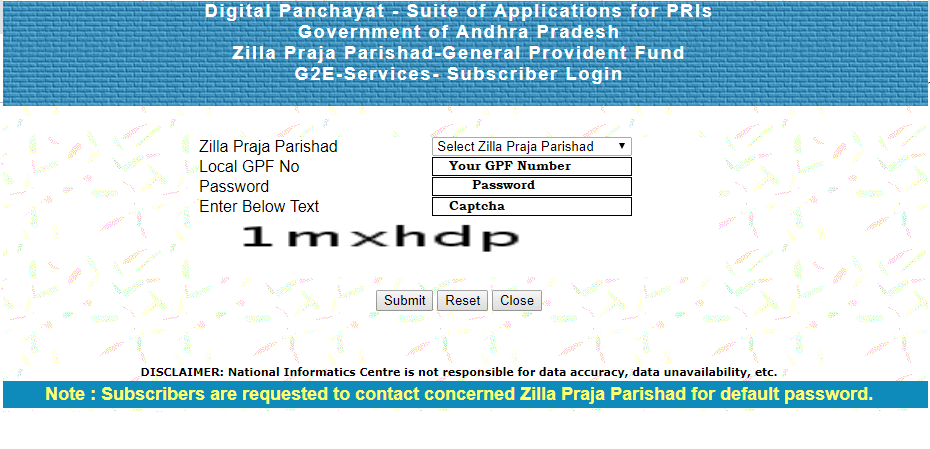 Visit Telangana State Panchayat Raj and Rural Development official website and search for ZPGPF ( The Option available at bottom menu options of the portal)
Select and Proceed with the link to redirect ZPGPF main portal maintained by National Informatic Center (NIC), here we have provided direct link just follow – http://epanchayat.telangana.gov.in/zpgpf/
Select your Zilla Parishad Name of the District like Adilabad, Karim Nagar, Khammam, Mahabubnagar, Medak, Nizamabad, Rangareddy, Warangal Rural.
Now login with using Local GPF Number and Password (Default User ID and Password is emp123456 (123456= your ZPGPF Account No.))
Once you have a successful login you need to change with your unique Password
Now you can access your account for downloading of ZPGPF annual slips and statement of ledger card.
That's it, every Telangana state Zilla Parishad Employee can download their GPF, ledger card and etc.
Note: In Case anyone can forget or lose their password, they must contact responsible district ZPGPF Officials, and Subscribers are requested to contact concerned Zilla Praja Parishad for the default password.
In case of any queries please comment the jnanabhumiap.in will give reply with solutions as possible.
What exactly are AP Employees ZPGPF Slips 2024?

The Zilla Parishad general provident fund is a website where state government employees can get their GPF account slips for the year.

Who is the head of AP Employees ZPGPF Slips 2024?

The GPF website is under the supervision of the state government of Andhra Pradesh. The NIC is responsible for the operation and management of this site on behalf of the state government.

Is it necessary to contribute 6% of your salary for AP Employees ZPGPF Slips 2024?

Every employee is required to pay a membership fee of 6% of their annual wage. You can use all of the website's features once you've registered.

How can employees download their AP Employees ZPGPF Slips 2024?

Every employee can download their GPF slips and ledger card online as ZPGPF using he/she Local GPF Number and Password for Zilla Praja Parishad-General Provident Fund.