TSMDC introduced TS Sand Booking Portal of SSMMS for Online Registration, Vehicle Registration, Track Sand Oder Status at https://sand.telangana.gov.in and http://tsmdc.telangana.gov.in/…
The Government of Telangana and the State Mineral Development Corporation have introduced the TS Sand Booking portal to Registration of Customers and their Vehicle's along with the Tracking of Status for the order. Citizens of Telangana can book Sand for their house or property concoction easily. Who has registered in TSMDC Sand Sale Management & Monitoring System (SSMMS) can make Sand Booking Online.
What is TSMDC?
Every State Government of the Country has Mineral Development Corporation to develop & manage minerals which is available on the state. Like that the government of Telangana also established their own with the name of Telangana State Mineral Development Corporation, shortly called TSMDC.
What is SSMMS?
TSMDC has introduced the Sand Sale Management & Monitoring System (SSMMS) to the monitoring of the sale for all Sand Bookings of the State transparently. SSMMS services help everyone who needs to book Sand for their constructions, and all the registered citizens can book & track the status of Sand online.
Services Provided under SSMMS by TSMDC
The listed services are provided under the SSMMS Portal to facilities of Sand Sale under TSMDC. Citizens of Telangana can access the TS Sand Portal to access the listed Services.
Custimer Registration.
Vahicle Registration.
Status Track for Orders.
Inter-state sand transportation activities.
Sand Order Details & Statement.
Daily Updates for orders, stockyard, booked quantity, available quantity, quantity delivered, etc.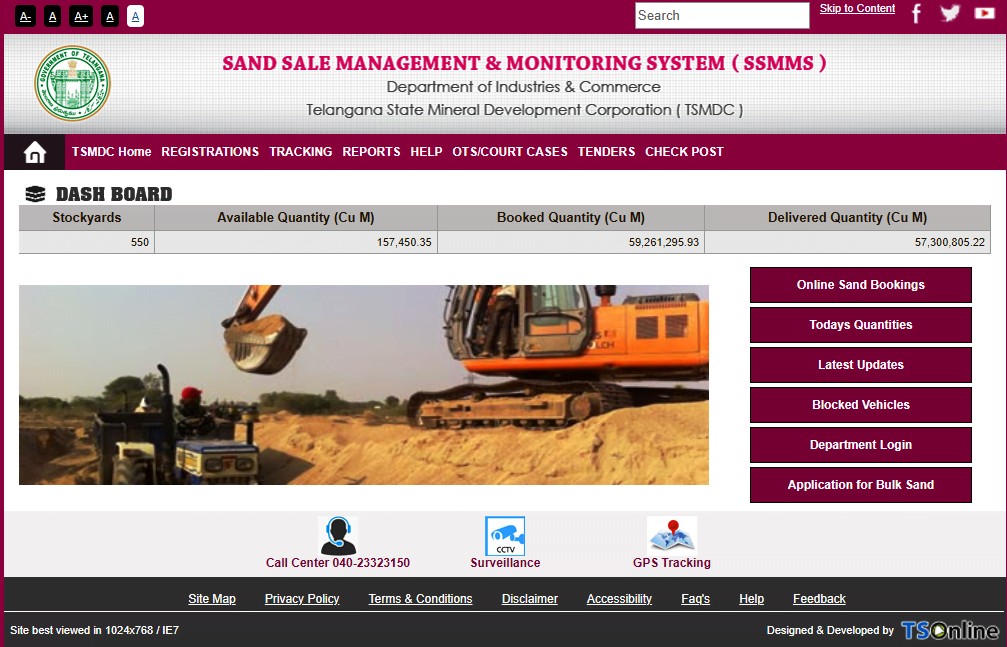 Customer Registration in SSMMS at sand.telangana.gov.in
Visit the TS SSMMSS Official website at https://sand.telangana.gov.in.
Go to the Manu options and select "Registrations" option and Select "Customer Registration" option, located on the homepage.

In this Customer Registration First Step you need to Enter your Mobile Phone Number.
Then Proceed with "Send OTP" Option.
Verify the OTP to Verify to Confirmation.

Now we are going to Step-2. In this Section you need to fill out a registration form with the complete information of the Customer like district, village, house no., email Id, etc.
Upload your Identity Proof Information, and carefully the entered information before submitting the "Register".
Now you will be registered successfully. After some time you can check your registration status as per the steps.

Visit the https://sand.telangana,gov.in.
Reach into the homepage then Go to Registration, Select the Customer Registered link, and then proceed.
Now you have seen a list of registered customers along with verified status.
Search for your details, like searching for your name, phone number, and other submitted details in the registration form.
If you have seen your details on the verified user list, you can start booking from the SSMMS Portal.
sand.telangana.gov.in
The government of Telangana Sand Booking Portal is https://sand.telangana.gov.in.
Sand Sale Management & Monitoring System has maintained the portal.
All Bookings and Status of Delivery along with Registered Vehicles & Order Books are monitored for more transparency of Sand Sales.
SSMMS is a part of TSMDC to monitor Sand Books of Telangana.
TS Sand Book Online at TSMDC SSMMS
Below are Steps guides, for you to book sand from SSMMS Telangana Portal. Citizens of Telangana can book TSMDC Sand for their house or property construction.
Visit the Official website of TS Sand

ReachTSMDC announced SSMMS's official web portal of https://sand.telangana.gov.in.

Customer Login

Log in by using your Credentials at the Customer login link located on the main menu options of TS Sand.

Select District & Stockyard

After Successful Login, Select your District, and Nearest Stockyard to get the Sand from.

Confirm & Take Receipt

By Selection of the Stockyard, enter necessary details then proceed with confirm. Now you have successfully booked the sand and print receipt by proceeding with the Take the Receipt option.
How to Track TS Sand Booking Order Status?
Those who have successfully pleased their orders can track their booking status up to delivery. Below steps guide you to check TSMS Sand Booking Status on the SSMMS portal easily.
Visit the TSMS SSMMSS Official website at https://sand.telengana.gov.in.
From the main Menu options Select and Proceed with "Bookings", and Select "Track Your Order".
Enter your order ID printed on the recipt. Or Select Mobile/Vehicle, If you have interested to track by using your registered Mobile Phone or Vehicles Number.
Enter your Order ID and Proceed with 'Get Status" option.
Than you have seen the Status of Order.
TS Sand Vehicle Registration
Go to the TS Sand Official website at https://sand.telangana.gov.in.
Than, go to Main Menu and Choose "Registrations", than "Vahile Registration" Option.
Then the Registration form is displayed, Fulfil with your "Vahile Details" and upload the RC and other supported documents, and Proceed with register.
Now you Successfully submitted TSMS Vahile Registration from for TS Sand Transport.
After Verification you will receive a registration no by SMS to yor phone number.
For additional information please read the user manual to get complete information on registrations & bookings.