TVS Credit Payment Online for Two Wheeler Loan EMI Payments & Part/Principal Payment through TVS Credit Saathi App & Online at https://tvscredit.com…
Do you know what is Credit? Have you heard of TVS Credit Online Payment? If not, let me explain both of these terms. Credit is a type of contract agreement between a borrower and a lender in which the borrower receives a sum of money, or any valuable thing from the lender and agrees to return it at a later date. Credits are given based on credit history, creditworthiness, or assets owned by the borrower.
TVS credit is a company owned by a TVS company. It gives credit depending on the different needs of the borrower. It gives different kinds of loans like business loans, two-wheeler loans, three-wheeler loans, used car loans, tractor loans, consumer durable loans, used commercial vehicle loans, etc.
For most of the loans that you take, you have to pay an EMI (Every Month Instalment). If you miss paying the EMI, there are different ways in which you will have to suffer. E.g., if you have purchased your mobile phone and forget to pay the installment/EMI on time, the company will block your phone and you will not be able to use your phone without paying the EMI (that you skipped).
If for any reason you forget to make the payment, you can easily make the payment online in just 5 minutes. Making TVS credit online payment is as easy as making a recharge of your mobile number. But before proceeding, you must be ready with the following things.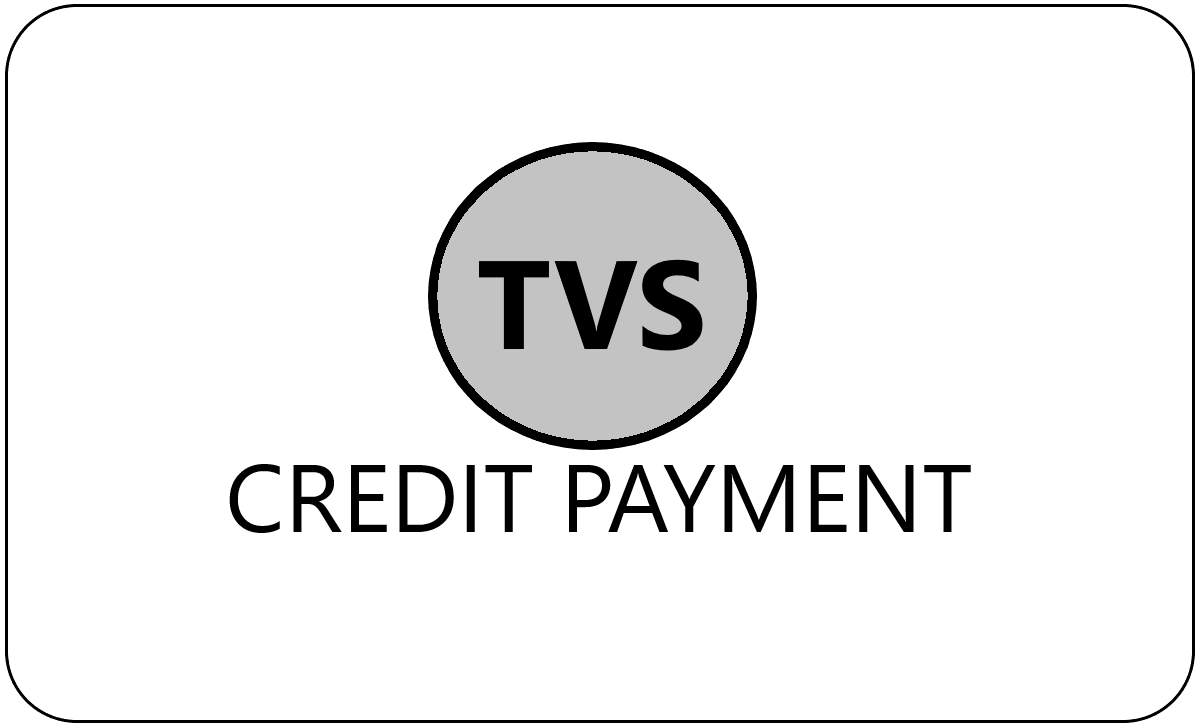 Prerequisites for Making TVS Credit Online Payment – Loan EMI
You must be ready with the Loan number that you received while opting/registering for a TVS credit loan.
OR
Active registered mobile number with you, on which you will get the OTP and related details.
How to Make TVS Credit Payment Online
There are two ways to make the TVS Credit online payment. First by the use of the TVS Credit Saathi App on your mobile or directly using the TVS credit website. Both the methods are very easy to use. Let us discuss both methods one by one.
TVS Credit Bill Pay through TVS Credit Saathi App
With the help of this App, you cannot only make the payment but you can also check all the details related to your loan like EMI, etc., and download the statement as well. This Following steps discussed below to download, install and make the payment with TVS credit Saathi App. Here, I am discussing how to make TVS credit Online Payment via Android equipped smartphone.
How to Pay TVS Credit Payment through TVS Credit Saathi App
Every Smartphone user can pay the TVS Credit Card Payment online by installing the application on Android & IOS (iPhone), Follow the steps to make the regular payments just in a minute.
First Install the TVS Credit Saathi App

For an Android phone, open the Google Play Store, type 'TVS credit Saathi'. You will see it in the first position. Alternatively, you can click here. Download, install and open it.


Open the App and Login by Using Registered Mobile Phone Number (RMN)

On the main screen of the App, you will see that it will ask for your registered mobile number (RMN). Enter your RMN.


Confirm OTP to Verify

Once you do that, you will receive an OTP on your registered mobile number. You have to enter it on the screen that appears next after entering your RMN.


Check your Active Loans & Select payment

Now, you will be taken on the main page of the App, where you will be able to see your active loan accounts detail. Click on the loan number for which you want to make the payment.


Proceed to Pay using Payment Tab (Pay via Agreement Number)

You will see the 'payment' tab on the bottom of the screen. Click on that 'Tab'.


Pay EMI or Part Payment of the Loan

The new page that appears next will give you the details about your pending due amount for your chosen loan number. Below this, you will find the various modes of payment with the help of which you can pay this pending EMI or loan amount. Choose the model that is most suitable for you and complete the payment.
Isn't the process easy? You need not go anywhere in this type of pandemic. It requires just some clicks to complete your payment.
How to Pay TVS Credit Payment Online through Official website : https://www.tvscredit.com
Visit the TVS credit official website at https://www.tvscredit.com. On the right-hand side of the screen, you will find the option 'Pay Online. Click on that.

You will be taken to a new window, where you will be asked to enter your Agreement number or Registration number. Make the entries and click on the 'Fetch' tab.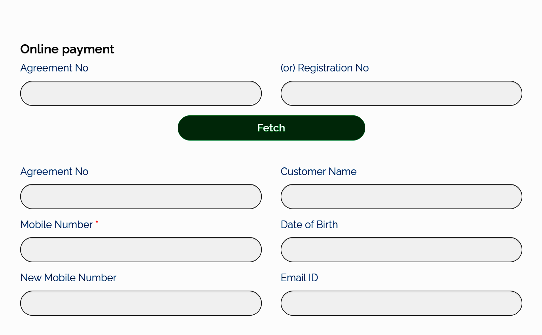 If the entry made by you will be correct, the information related to you such as agreement number, your name, mobile number, date of birth, e-mail ID, etc. will be shown. If you want to make any changes to it, you can make them here and then press the 'Submit' tab.
Note: – Total amount due will also be visible on the same page.
On the page that appears next, you will have to choose the mode of payment. You can choose from a variety of methods like Debit card payment, net banking, etc.
Note:- An important point to remember here is that, you can not pay via credit card.
Now enter all the details asked for related to the mode of payment you choose and verify. After you have verified all the detail, you will be able to see the status of your transaction as 'Txn Success'. You can even note down the transaction ID also if you need to be secure.
NOTE:-In case, you don't have it, you need to click the 'Login' tab present at the right-hand corner of the webpage and then click on the option 'Customer Login'. On the new screen, enter the mobile number that you registered with the TVS Credit which taking the Loan and then enter the OTP that you get on your RMN and click on 'Login'. Now you will be able to login and see details of your loan number etc. You have to click on the loan number and make the payment.
I think, both the processes are defined pretty well. If in doubt, please feel free to ask.
What is the official website for TVS Credit Payment Online

TVS Credit Payment Online for Two Wheeler Loan EMI Payments & Part/Principal Payment through TVS Credit Saathi App & Online at https://tvscredit.com

How do I pay my TVS Credit installment bill online?

Every account holder can pay their EMI or prepayment of the loan through online from the official website at https://www.tvscredit.com and also payable through TVS Credit Saathi App

How do I check my TVS Finance balance?

After Successful login of the account you can find out complete details of the loan with finance balance with monthly statements along with final balance.

What is TVS Credit Payment Online?

The TVS Credit Saathi is a mobile phone application to pay the loan EMI through Android & IOS Apps, and its designed for Smartphone users of loan holders

Can I pay TVS Credit Payment Online with my credit card?

An important point to remember here is that you can not pay via credit card for TVS Credit Payment Online