SEBA HSLC Question Paper 2021 Pdf Download for Assam 10th Model Paper 2021 to HSLC & AHM Sample Paper Suggestions with Solved Question Bank Subject wise Suggestions in chapter wise for Paper-1, Paper-2 study material & important Questions for Hindi, English, Assamese, Bengali, Bodo, Manipuri, Garo, Nepali Medium…
Government of Assam, Board of Secondary Education SEBA is conducted state class 10th examination tests to all medium students for the government and private school HSLC / AHM course Unit tests, Quarterly (3 Months), Half Yearly (6 Months), Pre-final and annual final examination tests to the academic year 2021, and the student everyone can download SEBA 10th Model Paper 2021 with suggested question bank to all chapters in subject wise SEBA HSLC Question Paper 2021 online by the official website of the board at https://sebaonline.org.
Every Assam Board 10th Class of HSLC & AHM students can download the Question Paper with study materiel with practice guess paper and conduct regular mock test in subject wise for all chapters to all medium students, the SEBA board is conducted their examination test to all general, curriculum and vocational course students for Multiple Choice Questions (MCQ), Short Answer Type Questions (SA-1 & SA-2), Long Answer Type Questions (LA), Long Answer (LA) Easy (E), Very Shot Answer (VSA) and Objective (O) questions.
Latest Update: The School Education Board of Assam has announced 10th Class annual final exams for HSLC & AHM Regular & Private Student, and those subject wide exams start on May 11 and would end on June 1, 2021, and they have continued from February to March session exams as per the schedule declared by SEBA.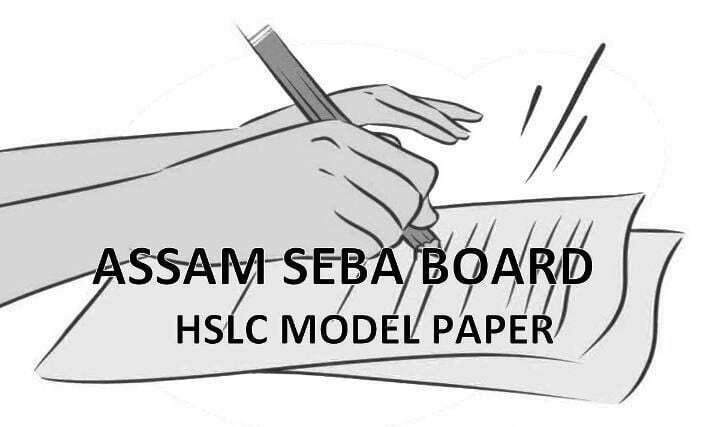 | SEBA 10th Question Paper 2021 | Assam HSLC/AHM Model Question Paper 2021 |
| --- | --- |
| Name of the State | Secondary Education Board of Assam (SEBA) |
| About | SEBA 10th Question Paper 2021 |
| Class | HSLC & AHM / 10th Class |
| Subjects | Assamese, Geography, Social Science, English, General Science, Fine Arts, Mathematics, Bengali, Hindi and etc.. |
| Medium | English Medium, Assamese Medium, Bengali and etc.. |
| Category | Assam, Class 10, Model Papers |
| Academic Year | 2021 |
| Official Website | https://sebaonline.org/ |
SEBA HSLC/AHM Model Paper 2021
SEBA Question Paper 2021
Every Hindi, English, Assamese, Bengali, Bodo, Manipuri, Garo, Nepali medium student can download the study material with Assam SEBA 10th / HSLC Question Paper 2021 with suggestions for theory, Internal Assessment, Practicals, Objectives, Knowledge, Understanding, Application, Skil, Comprehension, Expression to MIL and NIC subjects conducted by SEBA Board.
Here the Jnanabhumiap.in have provided the Assam 10th Question Paper Paper 2021 Pdf with all latest practice guess paper in subject wise for all chapters referred by subject expert of the state with important question patterns, we have provided those Assam 10th Question Bank 2021 to all subjects of First Language, Second Language, General Science, Mathematics, Social Science and Elective Subjects under SEBA Board MIL and NIL syllabus.
Assam 10th Class Question Paper 2021 Download
We have suggested to all students, everyone can follow the state newspapers and education pages to get chapter wise study material with practice question paper with answers in chapter wise from the state leading educational institutions and SEBA experts, and download all guess papers for Assamese, Hindi, English, Maths, Physics, Biology, Social, General Science, Social Studies SEBA Model Paper 2021.
Download All Subject SEBA 10th Question Paper Paper 2021 or Assam HSLC Model Question Paper 2021 Pdf along with question patterns in subject wise from the following direct links to both medium students.
According to the reports by the State Education Department, the Assam 10th Model Paper 2021 has published on their official website of https://sebaonline.org designed by the SEBA subject experts for the annual final public examination tests of March to April 2021.
We advised each HSLC & AHM of Class 10th Standard student of the state can download SEBA 10th Question Paper 2021 with suggested answers to practice to getting a good knowledge about the final exam and it helps to get a good score.
Assam HSLC & AHM Question Paper 2021 Pdf Download
SEBA 10th Class Model Question Paper 2021 Latest Fresh All Subject Pdf Format Question Paper 2021 Download
Assam 10th Class Model Question Paper 2021 All Subject Pdf Format Question Paper 2021 Download
Assam 10th Class Model Question Paper 2021 All Subject Pdf Format Question Paper 2021 Download
Assam 10th Question Paper 2021
Assam Board 10th Sample Paper 2021 Download
SEBA HSLC Model Question Paper 2021 Download
SEBA HSLC Model Question Paper 2021 Download
Assam HSLC Model Question Paper 2021 Download
Assam Board 10th Class Question Paper 2021 for all Subjects
SEBA HSLC Model Question Paper 2021
Assam (SEBA) HSLC Model Question Paper 2021
Assam (SEBA) HSLC Model Question Paper 2021
Assam (SEBA) HSLC Question Paper 2021