AP D.El.Ed 1st Year Time Table 2020 Announced for BSEAP DED / DELED 1st year final exam time table 2020 for September final exams, Check AP DELED Time Table 2020 Pdf for first year DELED public exams to 2018-2020 batch at http://bseap.org…
Office of the Directorate of Government Examinations, Amaravati, Andhra Pradesh is announced AP DELED Time Table 2020 for first year annual final public examination tests to the 2018 to 2020 batch, and the schedule is applicable to all regular and backlog students of DED 1st year.
The candidates who are failed in their previous batches also can follow the schedule of AP D.Ed 1st Year Annual Exams 2020, the BSEAP has announced the schedule on 27th August 2020 at their official website under RC, NO, 81/C-1/2020 also for failed candidates of the previous batch.
AP DELED/ DED 1st Year Time Table 2020
Details
Name of the Board
BSEAP
Official website
https://bseap.org/
Batch
2018-2020
Schedule
28-9-2020 to 5-10-2020
Session of the Exam
Only at Morning Session
Timings
Between 9:00AM to12:00PM
AP DELED Time Table 2020
Download AP D.Ed /D.El.Ed 1st year time table 2021 Pdf officially published by bseap.org
Every D.Ed first-year student of the 2020 batch student can follow the schedule to attend annual final examination tests, and those public exams are started from 28th September to 5th November 2020 at all examination test centers across the state of Andhra Pradesh.
The BSEAP has informed the schedule through a press announcement as it is hereby informed that the following is the timetable for D.Ed 1st year Examinations of the 2020 batch and for failed candidates of the previous batch also for failed candidates of previous batches of DELED candidates only.
We have also published the AP DED 1st year Time Table 2020 here for reference purposes, and the candidate can visit the official website of BSEAP to get any changes in the time table.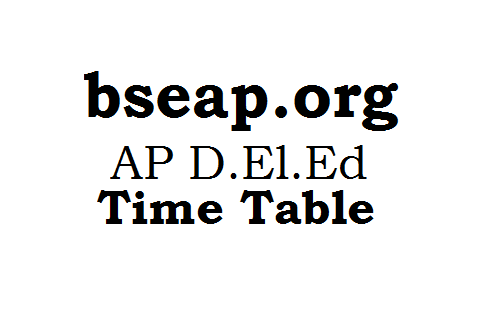 | Date | Name of the Paper | Subject |
| --- | --- | --- |
| 28-9-2020 | Paper-I | Childhood, Child Development and Learning |
| 29-9-2020 | Paper-II | Society, Education and Curriculum |
| 30-9-2020 | Paper-III | Early Childhood Care Education (ECCI) |
| 1-10-2020 | Paper-IV | Pedagogy of Mother Tongue at Primary Level (Mother tongue -Telugu/Urdu) |
| 2-3-2020 | Paper-V | Pedagogy of Mathematics at Primary Level |
| 5-10-2020 | Paper-VI | Pedagogy across Curriculum and ICT Integration |
AP DELED Time Table 2021
*Note: The Part'B' of Bit Paper shell be issued in the last half an hour of the exam only.
Right now the BSEAP has published the latest time table on 27th August 2021 at their official website, for any changes or reschedule of the exam dates visit bseap.org to get official information