AP Grama Sachivalayam Result 2024 Post wise Cutoff Marks announced with Merit List in categories wise, Check AP Grama Sachivalayam Result 2024 Available from 20th September at http://gramasachivalayam.ap.gov.in…
The government of Andhra Pradesh has successfully conducted the AP Grama Sachivalayam Recruitment 2024 examination test between 1st to 8th September for 19 types of government jobs at all rural and urban area Grama Ward and Sachivalayam and also announced final Answer Key paper also for all posts of the recruitment.
Now the AP Grama Sachivalayam Results 2024 is going to announce on 20th September 2024 (Expected) with post wise merit list with cut off marks in categories wise, every candidate who has applied and attended the recruitment examination test can check their result with post wise cut off marks along with merit or provisionally selected candidate list 2024.
AP Grama Sachivalayam Result 2024
According to the reports, there are 19 lakhs and more candidate are applied to this 126230 vacancies in Grama Sachivalayam/Village Secretary posts, now the male and female candidates are waiting to check post wise result with a provisionally shortlisted candidate list along categories wise General/OC/OBC/Minority/SC/ST/PH candidate cutoff with merit lists.
AP Grama Sachivalayam & Panchayat Secretary Grade V Online Mock Test 2024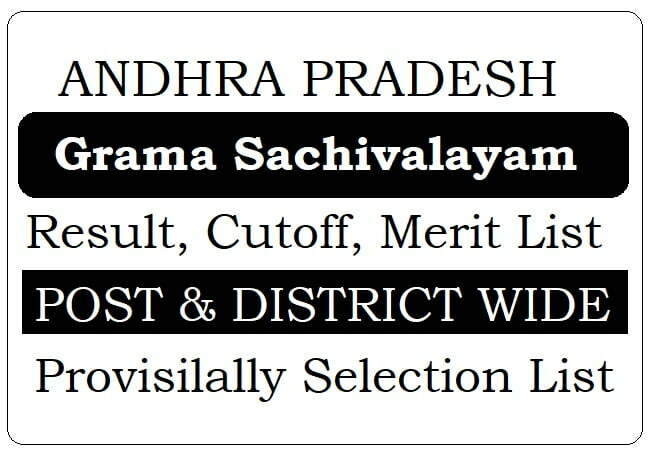 The Government of Andhra Pradesh is going to announce post wise results with shortlisted candidate list on or before 20th September 2024, every candidate can check their result in post wise from the following steps, and the result will be published at the official website of AP Grama Sachivalayam Recruitment 2024 and leading result portals of Manabadi, Schools9, Sakshi Education, Eenadu Pratibha and etc.
How to Download AP Grama Sachivalayam Result 2024
Visit AP State Government announced Andhra Pradesh State Grama Sachivalayam Recruitment 2024 official website of http://gramasachivalayam.ap.gov.in/
Now search in the options list or follow the message board for "Check Result" option (link visible and activate after the official announcement of result)
Now Proceed with the link, you will redirect to the main page of result, in this page, you will see post wise result links with the name of the post, proceed with your appeared responsible post link
Now enter your exam hall ticket number and proceed with submit option, then your result will be displayed with qualifying marks
Take multiple copy's of the printout and save for future reference.
AP Grama Sachivalayam Recruitment Cutoff Marks 2024 Categories wise and District wise
Once theSachivalayam Post wise Result announced post wise cut off marks will be announced for general, OC, BC, SC, ST, Minority, and Physically Challenged (PH) candidate, and the cutoff marks will be announced in post wise for all districts separately based on qualifying candidate ratio, we have expected AP GramaSachivalayam Post wise Cutoff Marks 2024 will be announced after two or four days of result announcement.
Every candidate can visit the official portal or follow leading newspapers to get district wise and post wise cut off marks of the district for both of rural and urban area's of the district, here we have given a table to get post wise cut off marks for each district of the state.
AP Grama Sachivalayam Merit list 2024 or AP Grama Sachivalayam Shortlisted Candidate List 2024 or AP Grama Sachivalayam Provisilally Selection List 2024 in Post wise
The AP Sachivalayam Recruitment Shortlisted candidate list or Provisionally Selected list will be announced based on AP Government norms, and the merit lists will be announced in district wise for each post separately and announced interview or certificate verification schedule along with waiting list candidate details also.
Here we have to provide the table to check post wise result with cutoff marks along provisionally selected shortlisted candidate list in district wise for rural and urban area posts, every candidate can follow the table to get latest updates in post wise.
Post wise Links for Rural Area Recruitment 2024
Name Of The Post
Result Link
Cut off Marks
Provisionally Selected List
Panchayat Secretary (Grade-V)
Click Here
Click Here
Click Here
Village Revenue Officer (Grade-II)
Click Here
Click Here
Click Here
Higher Qualification of VRO (Grade-II)
Click Here
Click Here
Click Here
ANMs (Grade-III)
Click Here
Click Here
Click Here
Animal Husbandary Assistant
Click Here
Click Here
Click Here
Village Fisheries Assistant
Click Here
Click Here
Click Here
Village Horticulture Assistant
Click Here
Click Here
Click Here
Village Agriculture Assistant (Grade-II)
Click Here
Click Here
Click Here
Village Sericulture Assistant
Click Here
Click Here
Click Here
Mahila Police and Women & Child Welfare Assistant
Ward Women & Weaker Sections Protection Secretary (Female)
Click Here
Click Here
Click Here
Post of Engineering Assistant (Grade-II)
Click Here
Click Here
Click Here
Panchayat Secretary (Grade-VI) Digital Assistant
Click Here
Click Here
Click Here
Village Surveyor (Grade-III)
Click Here
Click Here
Click Here
Welfare and Education Assistant
Click Here
Click Here
Click Here
AP Grama Sachivalayam Result 2024
Post wise Links for Urban Area Recruitment 2024
| | | | |
| --- | --- | --- | --- |
| Name Of The Post | Result Link | Cut off Marks | Short listed Candidate List |
| Ward Administrative Secretary | Click Here | Click Here | Click Here |
| Ward Amenities Secretary (Grade-II) | Click Here | Click Here | Click Here |
| Ward Sanitation & Environment Secretary (Grade-II) | Click Here | Click Here | Click Here |
| Ward Education & Data Processing Secretary | Click Here | Click Here | Click Here |
| Ward Planning & Regulation Secretary (Grade-II) | Click Here | Click Here | Click Here |
| Ward welfare & Development secretary (Grade-II) | Click Here | Click Here | Click Here |
AP Grama Sachivalayam Result 2024