AP Grama Volunteer Recruitment Notification 2024 ( AP గ్రామ వాలంటీర్ రిక్రూట్‌మెంట్ 2024 ) APGV is going to announce for more than 4 lakh Village volunteer posts before August 15th, 2024, interested candidate can apply online at http://gramavolunteer.ap.gov.in/……
The government of Andhra Pradesh is announced (APGV) AP Grama Volunteer Recruitment Notification 2024 (AP Grama Volunteer Recruitment 2024) for filling more than four lakh ( 433126) village volunteer posts online from the official website of AP Grama Volunteer Recruitment 2024, and details notification is announced on 22nd June 2024 and online application registration service available from 24th June to 5th June 2024 at official website only.
There is no official registration and under the scheme, the AP Government is going to fillip one village volunteer (AP గ్రామ సచివాలయం & పంచాయితీ సెక్రటరీ మాక్ టెస్ట్ 2024) with five thousand rupees of salary for every 50 families in the state, and 50% of postings are reserved for the village women candidates.
Right now the AP Grama Volunteer official website is started and announced detailed notification with guidelines of registration, and submission of application service is starting from 24th June 2024 officially.
AP Grama Sachivalayam & Panchayat Secretary Mock Test 2024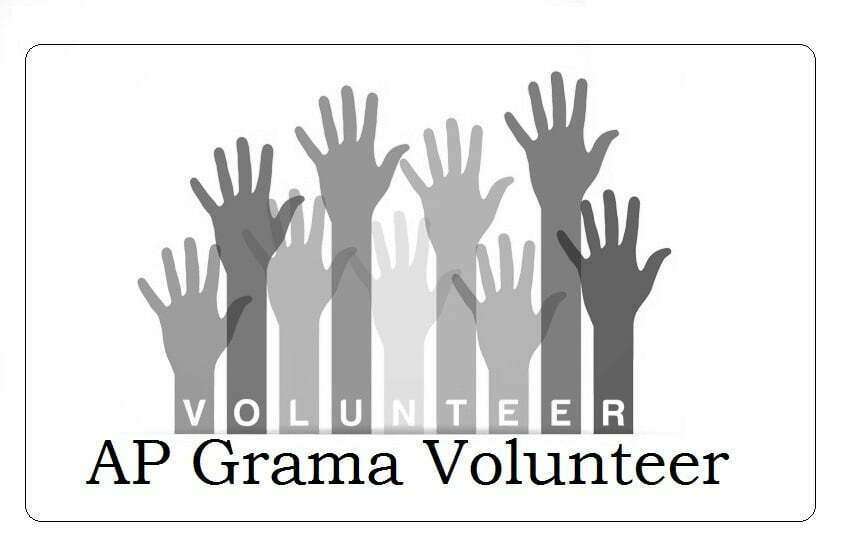 | | |
| --- | --- |
| About APGV Recruitment 2024 | Details |
| Name of the Post | Grama Volunteer in AP State Villages |
| Number of Posts | More than 4 Lakh (433126) ( Single Vacancy for 50 Families of the Village) |
| Pay Scale or Salary | Rs.5000/- Per Month |
| Eligibility | Any Education Person of the Village (Class 10th and above) |
| Date of Notification | June 2024 (EXPECTED) |
| Application Mode | Online Registration from June 2024 (EXPECTED) |
| Selection Process | Based on candidate nativity and education |
| Announcement of Selected list | August 2024 (EXPECTED) |
APGV Recruitment 2024
How to Apply AP Grama Volunteer Recruitment 2024 Online
The government of Andhra Pradesh has announced the Grama Volunteer Recruitment official website along with detailed notification for schedule (AP గ్రామ వాలంటీర్ రిక్రూట్‌మెంట్ 2024 ఆన్‌లైన్‌లో) and eligibility with complete details of APGV recruitment 2024, now there are no doubts about application registration, interest, and eligible candidates can follow the steps to apply for AP Grama Volunteer posts online.
Visit official website of Grama Volunteers and Select "Apply For Village Volunteer" option and proceed
Now you have redirected to SETP-1 registration

Now enter your details please like rural or urban
Now choose your qualification from the drop down list SSC / Inter & above / Degree and above
Now submit (If you have enter qualified details you have seen a massage with you are eligible)

Now you have moved for SETP-2 to enter your Aadhaar number details

Aadhaar Number is mandated to the applicant, in case you have no aadhaar card you can register with using he/she mobile phone number
Enter your aadhaar number and proceed with get OTP option
Now enter OTP number to verify your Identity.

Now you have moved to STP-3 in the step you need to enter candidate details based on Aadhaar

Enter your name as per Aadhaar Card
Your Father Name
Gander (Male / Female)
Date of Birth

Now you have entered final STEP-4 to submit candidate personal details

Upload your passport size photograph
Present Address details like District, Mandal, Gram Panchayat, Door Number and complete details as per requested
Upload Residence Proof scanned copy for residence proof
Enter your contact details of mobile phone number and eMail ID
Now go with proceed option

Now you have seen complete application with your submitted details, carefully check and proceed to submit
Now you have seen successfully applied massage with your submitted application reference ID number
That's it you have successfully registered for APGV Recruitment 2024 online, the candidate who has successfully applied will get a confirmation message by SMS and email also, and take a copy of the printout for the submitted application to get the future reference.
APGV Eligibility to Apply AP Grama Volunteer Recruitment 2024 and Age Limit
Age limit: Age should be 18-35 yrs as of 30.06.2023/30.06.2023 
10th for Tribal Areas
Inter for Rural areas
Degree for Urban areas
Applicant should be resident of the same Panchayat/
Integrated caste certificate for other than OC/ OC
Village wise Number of Posts & Vacancies list under APGV Recruitment 2024
There is no vacancy limit to recruit under APGV Village Volunteer recruitment 2024
Every 50 houses or families will get one volunteer under the recruitment
According the exception there are four lakh and more candidates will get opportunities under the APGV recruitment 2024
Pay Scale or Salary of APGV Selected Candidate 2024
Each candidate who are selected under the APGV recruitment 2024 the male and female candidate will get Rs.5000/- of salary from the state government for each month
We have expect the salary will be high in fetcher
APGV Schedule and Important Dates for AP Grama Volunteer Recruitment 2024
Detailed Notification announced on 22nd June 2024
Online Application Registration Start from 24th June 2024
Online Registration Service Closed on 5th July 2024
Verification of Registered Applications on 10th July 2024
Face to Face Discussion from 11th to 25th July 2024
Selected Candidate list announced on 1st August 2024
Training Class will be scheduled between 5th to 10th August for all selected candidates
Posting letters issued on 15th August 2024
What is the official website for AP Grama Volunteer Recruitment 2024?

The candidates who are looking for the Recruitment process of AP Grama Volunteer Recruitment 2024 from the official website through the link here http://gramavolunteer.ap.gov.in/.

What is the latest update of notifications for AP Grama Volunteer Recruitment 2024?

The government of Andhra Pradesh is announced (APGV) AP Grama Volunteer Recruitment Notification 2024 (AP Grama Volunteer Recruitment 2024) for filling more than four lakh ( 433126) village volunteer posts online from the official website of AP Grama Volunteer Recruitment 2024, and details notification is announced on 22nd June 2024 and online application registration service available from 24th June to 5th June 2024 at official website only.

How can I find the latest announcements of notifications for AP Grama Volunteer Recruitment 2024?

There is no official registration and under the scheme, the AP Government is going to fillip one village volunteer with five thousand rupees of salary for every 50 families in the state, and 50% of postings are reserved for the village women candidates.

What are the options to download AP Grama Volunteer Recruitment 2024 easily?

Check the above links provided by https://jnanabhumiap.in/ and also check the detailed notification in the official website link provided in the article.

What is the age limit of candidates for apply AP Grama Volunteer Recruitment 2024?

The age limit of candidates for apply AP Grama Volunteer Recruitment 2024 should be 18-35 yrs as of 30.06.2023/30.06.2023