PMCARES: PM Cares Scheme for Children Online Application Registration, and Status Check at https://pmcaresforchildren.in…
On 29 May 2021, Prime Minister Cares' scheme for children was launched by Shri Narendra Modi. Through this Yojana, all of those children will be benefited from those who lost their mothers and father in this Corona pandemic. There are some children who have lost all of their support during this time of the pandemic.
This is a scheme to help such children. Now the government will take care of their growth, nourishment and development. Under this PM CARES Scheme, free education and financial support to children till the age of 23 will be provided by the Government.
PMCARES
Covid – 19 pandemic has seriously impacted the social structure of India. Children are the worst affected. Through this scheme, the government aims to provide a better future to orphaned children impacted by corona. Orphans after attaining the age of 18 years will get benefits under this scheme.
Such children after attaining the age of 23 years will be provided insurance of Rs. 10 lakhs through Prime Minister Cares Fund. It will also provide free education to all who have applied under this scheme.
Children will also be provided with a loan facility. To all the girl children, this loan facility will be provided without any interest cost. Up to the age of 18 years, all the children enrolled to get benefits under this scheme will get 5 lakh rupees.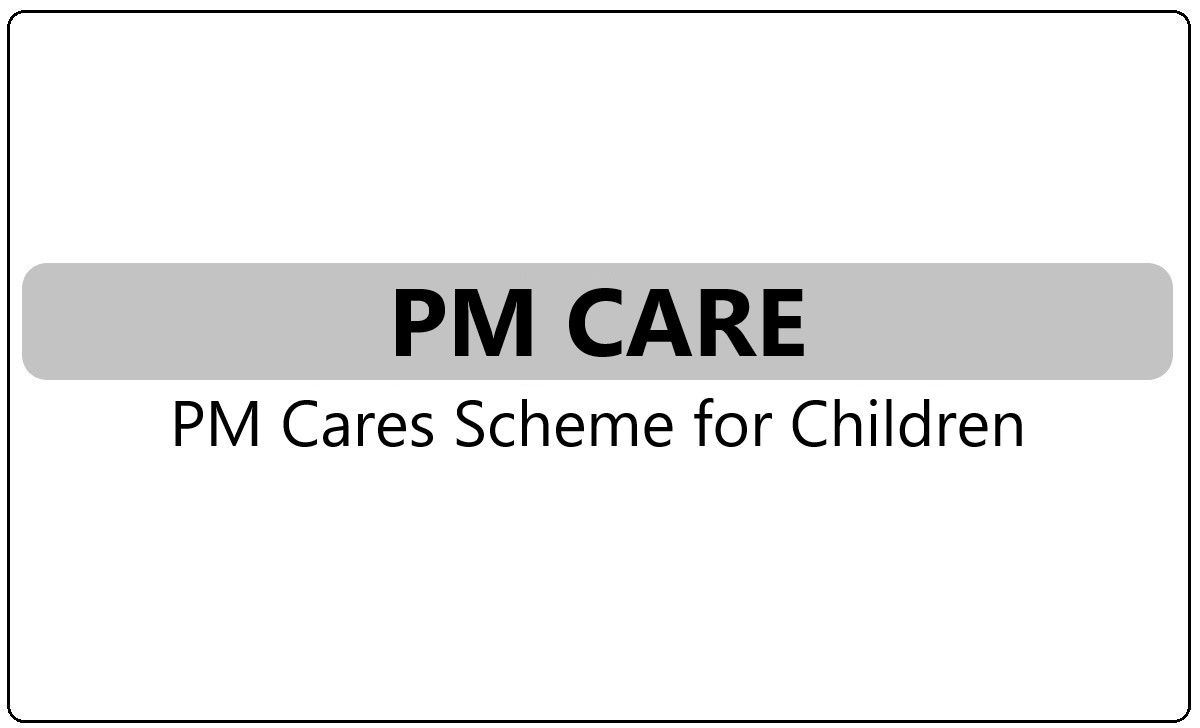 Aim of PM Cares for Children Scheme
As already discussed, this scheme has been started for those children who are severely impacted by the corona pandemic and lost their parents and family support. Providing support to such children and giving them hope for a better future is the prime responsibility of the Government.
Under the PMCARES Scheme, many live supporting and sustaining services will be provided to children so that they can have better futures. There are many services and facilities which are given under this scheme like Health insurance scheme, high school loans, school education, monthly financial help, and health insurance of rupees 10 lacks after a certain age.
Some facts related to PM Cares for Children Scheme
The announcement of this scheme was made on 29 May 2021.
All the children who lost their parents due to corona pandemic will get benefit under this scheme.
Such children will be given financial support after 18 years and up to a time span of 5 years e=-5604362''lp.;' Covid Pandemic.
Under this scheme, there is also a provision for help. This provision will help these kids to procure loans for higher studies. The interest will be paid under the PM Cares scheme.
Like the Ayushman Bharat scheme, the kids under this yojana will get free health insurance coverage of Rs. 5 lakhs. The premium of this insurance will be paid via PM cares.
The kids who are supported less will be given support and security under this scheme.
All the efforts will be made to help these kids and make their future bright.
Benefits related to PM Cares For Children Yojana
Indian Government will take responsibility for the studies and life of those kids who have lost their parents due to the deadly Corona disease.
Through this scheme, an insurance amount of up to Rs. 10 lakhs will be provided to support fewer kids.
A minimum support value of money will be provided to these kids every month under this scheme.
The kids who are below the age of 10 years will be given entry into the central or private schools as day scholars.
All the expenses of the day school will be incurred by the Government under PM cares for children scheme.
The children between the ages of 11 to 18 years will get admission to Navodaya Vidyalaya and Military school.
For higher studies which require a bid amount of money, the children will be given loans. The interest on the loan will be paid by the Government of India via the PM cares fund.
Documents Required and Eligibility Conditions for PMCARES
Aadhaar Card of Kids
The death certificate of the parents clearly states that the reason for their death is Corona.
Mobile Number.
Ration Card.
Birth certificate of the applicant.
Ration Card.
Passport Size photos of the Applicant
Proof of Residence.
Proof of residence as country of India.
How to Apply for the PM Cares for Children Scheme?
Those, who want to apply for all the benefits under this scheme can follow the steps to apply through PMCARE Official website.
Visit PMCARE Official Web Portal

The government of India has Launched https://pmcaresforchildren.in Web Portal for PMCARE, Visit the Portal to Apply.

Select Child Registration Link

On the homepage of the Portal, Everyone can see an option for "CHILD REGISTRATION" Link to Register. Proceed with the Link to PMCARE Application Registration.

Child Register for PMCARE

Once Following through the link, You need to enter your Mobile Phone Number and Security Code to Get an OTP for Verification. Once Successfully Verification You have Seen an Application form to Enter the Child's Details.

Enter Complete Details and Submit

Fulfil the Complete Details and Submit the Form to register.
After Successful Registration, you have to get A reference ID with the message "You have Successfully Registered".
PMCARE Status Check
Visit the Official website of PMCARE and Select "View Status of Application" through the link: https://pmcaresforchildren.in/viewapp.
Enter Your Application ID with Captcha Code.
Submit to Know the Application Status of PMCARE.
For more details please visit https://www.pmcares.gov.in/en
Some questions related to PM Cares for Children Scheme
When did the announcement for the PM care for Children scheme make?

On 29 May 2021, the Government of India announced the Scheme PM Cares for Children.

What is PM Cares for Children Scheme?

The kids who have lost their parents during Corona Pandemic are covered under this scheme. This scheme will look into the nourishment, education and livelihood-related needs of these kids. All the expenses will be borne by the Government of India. Together with education, other facilities will also be provided by this scheme.

Under this scheme, the children will get an education in which schools?

Children under this scheme will get an education in central and private schools. The expenses of the private schools will be borne by the Government.

Monthly financial aid will be provided to the children from which age?

After the age of 18 years, these kids will get monthly financial help from Government. This monetary value can be used by these students as expenses needed for higher education.