AP DSC Notification 2021 ( AP DSC నోటిఫికేషన్ 2021 ) is announced on January for more than 15000 Posts for SGT, TGT, PGT, SA, LP, PET, Music, Art, Craft, Principal Posts under AP TET CUM TRT 2021, Latest News Updates and Detailed Notification at https://apdsc.apcfss.in…
Government of Andhra Pradesh, Department of Humen Resources is going to announce big recruitment for the state education department under AP DSC 2021, according to the reports government of AP is going to announce Teacher recruitment every year in January to clear all vacancies of the year.
That's the way this year also announced AP DSC 2021 Recruitment notification for filling various teacher posts in the state Govt / MPP / ZPP / MPL / MPL Corporation / TRIBAL / APMS / APREIS / BC Welfare schools at all districts, and the AP Government has taken the decision to clear all vacancies of the year based on December month vacancies and announced DSC Notification in January to fillup the vacancies.
That's the way this year also announced AP DSC 2021 Notification and announced huge number of vacancies to balance for students and teachers ration of the school, We have expected this AP DSC Notification 2021 is announced more than 20000 Posts for Secondary Grade Teacher (SGT), Language Pandit (LP), School Assistant (SA), Physical Education Teacher (PET), Music, Art & Drawing, Trained Graduate Teacher (TGT), Post Graduate Teacher (PGT), and Principal Posts.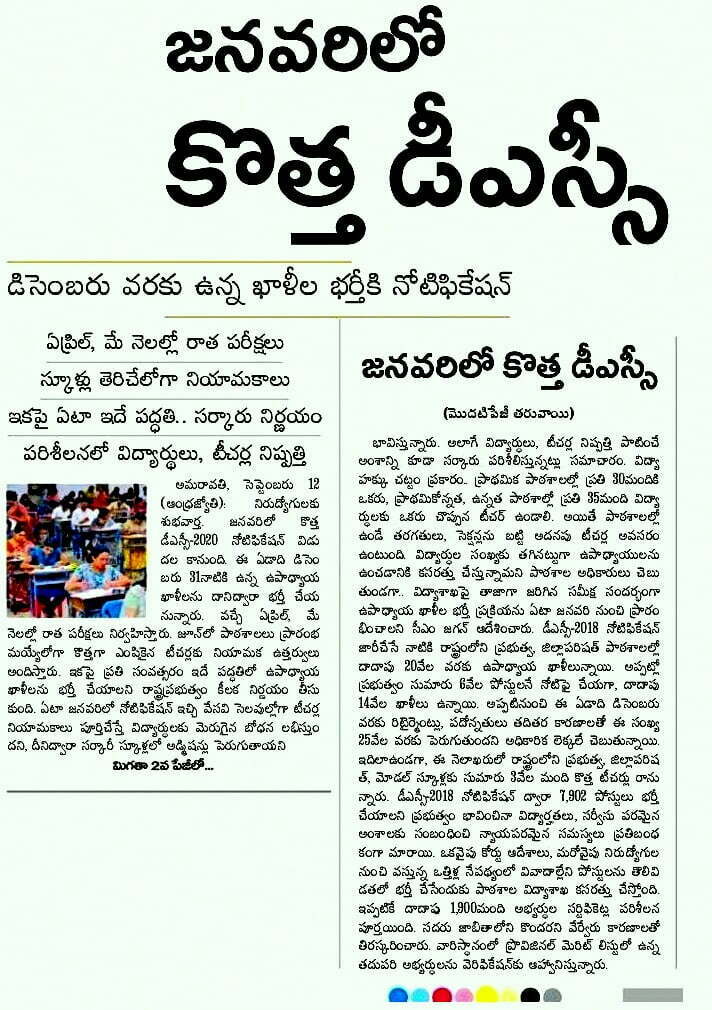 | | |
| --- | --- |
| About AP DSC 2021 Recruitment | Details |
| Name of the Authorities | Commissioner of School Education, Amaravati |
| Name of the Recruitment | TET CUM TRT 2021 (AP DSC 2021) |
| Name of the Post | SGT, TGT, PGT, SA, LP, PET, Music, Art, Craft, Principal Posts |
| Number of Posts | More than 20000 (Expected) |
| Date of Notification | January 2021 (Expected) |
| Official Website | https://apdsc.apcfss.in/ |
| Categories | AP, DSC, Notification, Recruitment |
According to the Newspaper announcement on September 12th, every year the DSC Recruitment is conducted for vacant posts of the year and announced district wise posts list with detailed notification of the recruitment in January every year, that's the way this AP DSC 2021 is announced on January 2021.
The New Government of Andhra Pradesh has not confirmed this Teacher Recruitment is conducted through TET CUM TRT or separately for DSC, In case this new government is decided to conduct DSC only, TET Notification will be announced in before announcement of AD DSC 2021.
The Government of AP has going to announce the DSC Notification on January and conduct examination tests of April and announced selected list with giving posting orders on June every year, and this year also expected to same.
Every candidate can prepare to apply AP DSC 2021 and the recruitment detailed notification with post wise vacancies list with district wise posts positions in categories wise with complete details will update here, everyone can comment here to share your knowledge to other applicants and write a comment with your questions or answer for others questions.
Download AP DSC 2021 Notification & Information Bulletin