AP Balayogi Gurukulam Intermediate Admission Common Entrance Test 2021 Notification & Online Application Registration for APSWR Junior Inter Admission Selection Test 2021 and APSWR IIT NEET Academics through AP BGCET Inter CET 2021, APGPCET Online Application Registration Available (APRJDC) at https://apgpcet.apcfss.in/Inter/…
Government of Andhra Pradesh, Social Welfare Residential Educational Institutions Society (APSWRIES) has announced the Balayogi Gurukulam Intermediate Common Entrance Test 2021 (APBGCET / APGPCET 2021) detailed notification for admissions into 1st year intermediate at 164 Balayogi Gurukulams and 3 IIT NEET Academies to the academic year of 2021.
Right now the APGPCET Detailed Notification with information bulletin is published at the official website and online application registration is started from the 2nd week of December and the submission of application service deadline is 20th January 2021, the student who has interested and eligible can register before the last date.
Here we have shared AP Gurukulam Intermediate Admission Selection Test 2021 detailed notification with online application registration process along with eligibility and age limit of the student, those interested students can follow the steps to get complete details about AP BG Inter CET 2021 or AP Gurukul Inter CET 2021.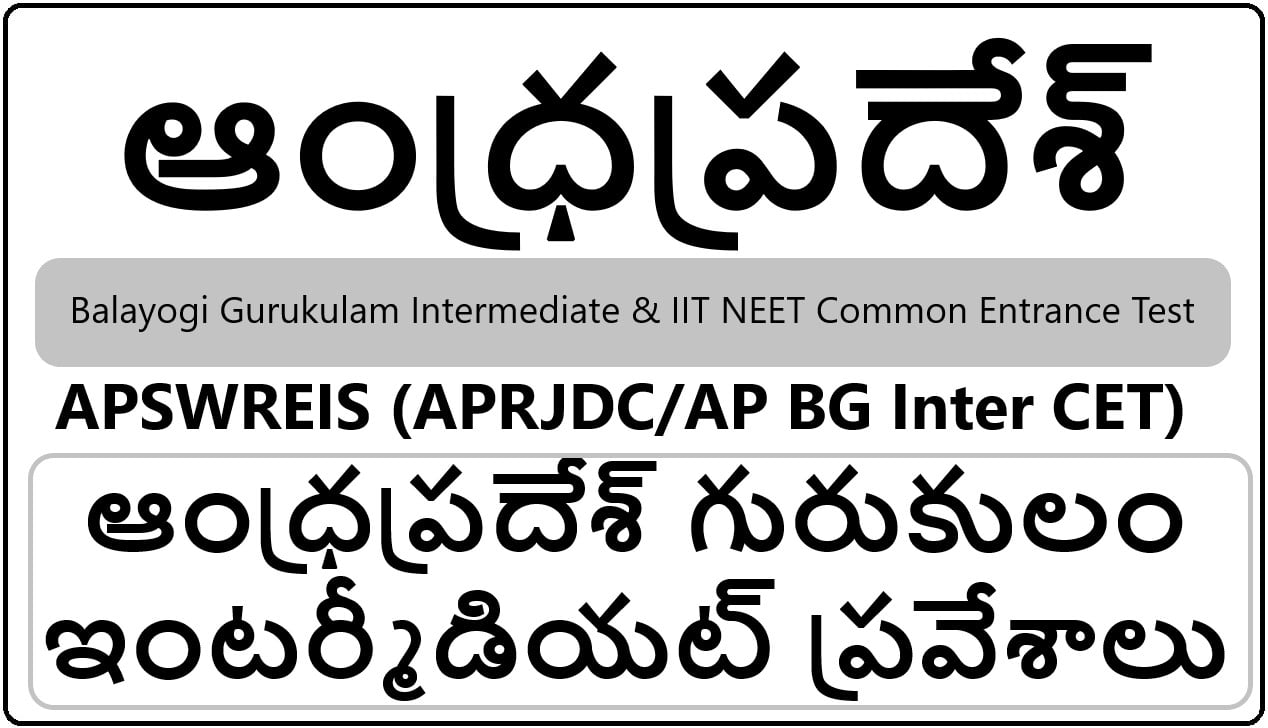 About AP Gurukul Inter Admission Test Online Application
Details
Name of the Test
APSWRIES Balayogi Gurukulam Intermediate Common Entrance Test 2021 (APGPCET 2021) APRJDC / AP BG Inter CET 2021
Admissions for
1st Year Intermediate & IIT NEET colleges under APSWRIES
Name of the Organisation
Andhra Pradesh, Social Welfare Residential Educational Institutions Society (APSWRIES)
Status of Online Application
Already Started, the Deadline is 20th January 2021
Exam Date
–
Categories
AP, APSWREIS, Gurukulam, Intermediate, Notification, Online Application
Official Website
https://apgpcet.apcfss.in/Inter/
https://jnanabhumi.ap.gov.in/
AP BG Gurukulam Inter CET Age Limit 2021
The student who shall not exceed 17 years as on 31.08.2021 is eligible if the students studying in APSWR Schools and Social Welfare (SW) hostels have a relaxation of 1 year.
AP BG Inter CET Eligibility 2020
The Student/Parent parent of the applicant shall not exceed Rs.1,00,000/- per annum as certified by MRO are eligible, every student need to produce their income certificate.
APBGCET 2021 Academics for Gurukulam
The interested student who is appeared for SSC/10th final exams in March 2021 and who shall not exceed 17 years, (18years for APSWER Students) are eligible to apply.
How to Apply APSWRIES BG Inter CET 2021, AP Balayogi Gurukulam Inter Admission Test APGPCET Online Application 2021 Registration Process
Every student who is interested and the eligible student can be registered the AP BG Inter CET 2021 without fee conducted by APSWRIES from the following simple steps using Aadhaar Number (UID) and Mobile Phone number of their parent.
Visit JNB Nivas (School Login) Website at http://www.jnanabhumi.ap.gov.in (Direct link is provided below)
Now Select the link about "Residential Schools & Hostels" Option
Now you have seen APSWRIES conducted list of common entrance tests with available online application links
Select Admissions for 1st year Intermediate and Online Application option link and proceed
Now you have reached the main page of AP Balayogi Gurukulam 1st Year intermediate Admission Common Entrance Test 2021 online application registration
In the Screen, you need to enter your Aaadhaar Details like UID Number and a working Mobile Phone Number (Student or Parent)
Now Proceed with Send OTP option, then you will receive an OTP number, enter and proceed
Now you have seen complete student details witch is registered at their school, now upload the latest photograph and Signature of the student scanned copy, and proceed
Now you have seen dropdown options to select your interested Gurukulam intermediate college as yer preferred
Everyone can choose preferred BG intermediate college and IIT college in the application stage only
Now carefully check your entered details and proceed with submit option
That's it you have registered successfully, and you will download your submitted application reference copy immediately, the APSWRIES will be sent an SMS your status of the application with reference ID to your provided mobile phone number.
Download APSWRIES AP BGCET Detailed Notification 2021
There is no fee collected for online application registration, every eligible student can register with free of cost
Every student must select your interested college as per preference in the time of application registration
The Common Entrance Test is conducted on 2nd February, if you have any queries any other details the District Coordinating Officers (DCOs) of APSWREI Society may be contacted.