CG Board 12th Commerce Model Paper 2021 Pdf Download for CGBSE 11th and 12th Commerce Group Model Set Question Bank 2021 with Answers to English Medium & Hindi Medium Paper-1, Paper-2 Theory, Objective type MCQ important questions…
Chhattisgarh, Raipur Board Class 11th and 12th students can download commerce course study material with practice important questions for CGBSE conducted theory, objective and multiple choice question 8 Mark, 5 Mark, 3 Mark, 2 Mark, 1 Mark and half mark single word question in part-1, part-2, part-3 question paper of paper-1 and paper-2 examination tests to the academic year of 2021.
The CG Board is published all latest syllabus commerce course sample question paper and answer solutions suggested by CGBSE experts to all government and private college Hindi Medium and English Medium regular and vocational course students, right now the CGBSE 11th and 12th Commerce Model Paper 2021 Pdf is download available at Madhyamik Shiksha Mandal portal.
The State subject experts also provide subject wise practice guess paper with important question suggestions from Commerce stream past years repeated questions to every chapter and lesson of ICOM.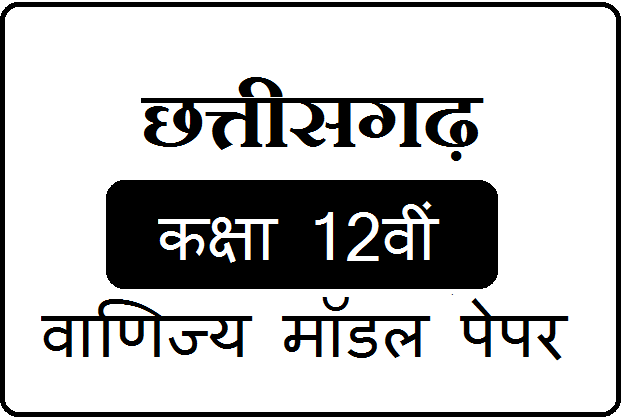 | CGBSE 12th Commerce Question Bank 2021 | Chhattisgarh Board 12th Commerce Question Bank 2021 |
| --- | --- |
| Name of the Board | Chhattisgarh Board of Secondary Education (CGBSE) |
| About | CG Board 12th Commerce Model Paper 2021 |
| Class | 12th Class |
| Group | Commerce Group |
| Commerce Subjects | Accountancy, Economics, Business Study, Steno Typing, Industrial Organization, Math's, English And Etc.. |
| Category | Chhattisgarh, Class 12, Commerce, Model Papers |
| Official Website | http://cgbse.nic.in/ |
CG Board 11th & 12th Class Commerce Question Paper 2021
List of Subjects in CG Board 11th and 12th Commerce New Syllabus 2021
Accountancy
Economics
Business study
Steno typing
industrial organization
Commercial math
Hindi (Specific)
English (Specific)
Marathi (Special)
Urdu (Specific)
Every student can download from Raipur Board official website and various leading newspapers also published latest syllabus mock test question paper with answers to all class 11th and 12th grade regular and vocational course students.
Download CGBSE 12th Class All Subject Question Paper 2021 Pdf
1 Urdu genral
2 Urdu special
3 Aahar avam Poshan
4 Arthshastra
5 Bahikhata-Lekhakarm
6 Bhoogol
7 Business maths
8 Chemistry
9 Computer Application
10 English General
11 English Special
12 Grih Vigyan Kala
13 Hindi General
14 Hindi Special
15 Itihas (History)
16 Krishi Vigyan Ke Tatva avam Ganit
17 Maths
18 Paryavaran
19 Pashu Ahar, Dugdh, Matasaya, Kukkut palan
20 Phasal Utpadan avam Shastra
21 Physics
22 Rajniti Vigyan
23 Samaj shastra
24 Sanskrit Manviki
25 Sanskrit Samanya