KSEEB Previous Paper 2021 Pdf Download for Karnataka 10th Class Old Exam Previous Question Bank 2021 Pdf with Answer Solutions for Kannada & English Medium, Kar SSLC Question Paper 2021 Download for 1st Language, 2nd Language, 3rd Language, and Core Subjects, Maths, Social Science, Science, and NSQF Subjects……
Karnataka State Board of Secondary Education Examination Board (KSEEB) is announced the state class 10th of Secondary School Leaving Certificate (SSLC) question paper with suggested answer solutions for general and vocational course Kannada medium and English Medium students the state, the KSEEB is provided subject wise latest Kar 10th Previous Question Bank 2021 with bit paper as per new syllabus of regular and NSQF.
Every year school education department of the state is published all subject latest SSLC questions 2021 with past years old examination solved question paper with suggested answers for each subject of the exam, and leading subject experts of KSEEB is provided practice study material through KSEEB 10th Old Exam Question Paper 2021 with IMP Question along with mock test questions for the latest and modified syllabus.
KSEEB SSLC Previous Paper 2021
Download Kar 10th Old Question Paper 2021 Pdf with answers as KSEEB SSLC Previous Paper 2021 Pdf from past 5 years and 10 years old examination tests of SA, FA, Unit Tests, Quarterly, Half-yearly, Pre- Final and annual final public examination tests for practice with repeated questions as most important questions.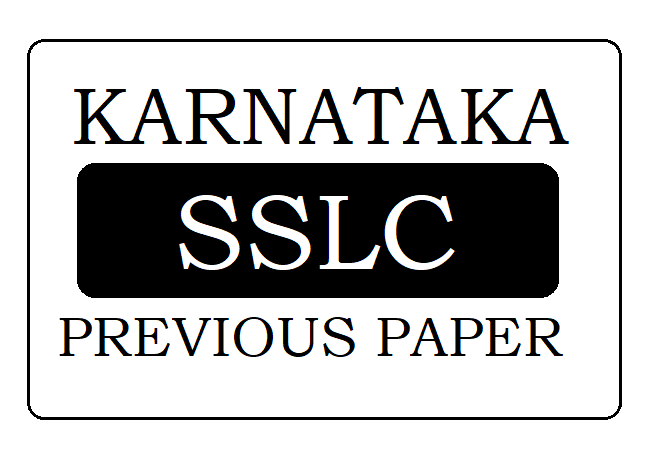 | KSEEB 10th Question Paper 2021 | Karnataka SSLC Previous Paper 2021 Pdf |
| --- | --- |
| Name of the Board | Karnataka State Board of School Education (KSEEB) |
| About | Karnataka 10th/ SSLC Previous Question Paper 2021 Pdf |
| Question Paper Type | Old Exam Solved Questions and Bits |
| Class | Class-10th / SSLC |
| Syllabus | General, Vocational, NQSF |
| Medium | Kannada, Hindi, English & Urdu Medium |
| Category | Class 10, Karnataka, KSEEB, Previous Paper Pdf, SSLC |
| Academic Year | 2021 |
| Official Website of Board | http://kseeb.kar.nic.in/ |
Karnataka 10th/SSLC Previous Paper 2021
List of SSLC Old Question Papers 2021 in subject wise
1st Language (First language Subjects)
Kannada
Telugu
Hindi
English
Tamil
Urdu
Sanskrit
Core Subjects
Elements of Mechanical & Electrical Engineering-2
Engineering Graphs-2
Elements of Electronic Engineering
Elements of Computer Science
Economics
Mathematics
Sociology
Social Science
Science
Political Science
Kannada Music / Hindustani Music
Second Language (2nd Language)
English
Kannada
Third Language (3rd Language)
Hindi
Kannada
English
Arabic
Persian
Urdu
Sanskrit
Konkani
Tulu
NQSF Exam Subjects
Information Technology
Retail
Automobile
Health Care
Beauty & Wellness
Karnataka SSLC Previous Paper 2021 Pdf Download
The KSEEB Previous Paper 2021 is very helpful for both Kannada medium, English medium student to practice, class teacher of the Government & Private school will share those past years old exam solved question bank to all regular & private course student, here we have also shared KSEEB Previous Paper 2021 Pdf from last year exams.
Every Kannada Medium and English Medium general and vocational student can download Kar 10th / SSLC Previous Question Paper 2021 with past exams solved old question bank with answers suggested by KSEEB Experts to practice with most important questions from KSEEB SSLC Previous Paper 2021, and follow the direct link to get latest Karnataka 10th Question Paper 2021 for both mediums.
KAR SSLC / 10th Core Subjects Model Paper 2021
Kar SSLC Latest Model Question Paper 2021 circular
Kar SSLC Model Papers 2021 Latest
I Language
II Language
III Language
Maths
Science
Social science
KSEEB SSLC Special Subjects Model Paper 2021
KSEEB SSLC / 10th JTS Model Paper 2021 (Junior Technical Students)
KSEEB 10th / SSLC NSQF Model Paper 2021
KSEEB SSLC Model Question Paper 2021 Medium wise
I Language –
II Language
III Language –
Maths
Science-
Karnataka 10th Social Science Model Paper 2021 Medium wise
Kar SSLC Model Previous Question Paper 2021 All Subject
KSEEB SSLC Model Previous Paper NSQF 2021
KSEEB 10th /SSLC 1st Language Previous Paper 2021
KSEEB 10th 2nd Language Previous Paper 2021
KSEEB 10th 3rd Language Previous Paper 2021 Medium wise
KSEEB SSLC Mathematics Previous Paper 2021 Medium wise
KSEEB SSLC Science Previous Model Question Paper 2021
KSEEB Social Science Previous Question Paper 2021 Medium wise
Kar SSLC JTS Previous Question Paper 2021