RBSE 10th Model Paper 2021 Pdf Download for Rajasthan Ajmer Board STD-10 / Praveshika Question Paper 2021 for RBSE / BSER Secondary Question Paper 2021 for Class 10th level Paper-1, Paper-2 exam theory, objective, MCQ, and IMP questions for Rajasthani, Hindi, English, Mathematics, Sanskrit, Sindhi, Social Studies, Science, Urdu, Sanskrit Vishes, Sanskritam…
Rajasthan State Madhyamik Shiksha Board Ajmer Secondary Course of class 10th and Praveshika subject wise new syllabus question paper 2021 download with study material, mock test suggestions in set wise for SET-1, SET-2, SET-3 and SET-4 sample paper for Rajasthani medium, English medium, Hindi medium subject wise theory, objective, multiple choice questions designed by BSER Ajmer board experts to the academic year of 2021.
Every year the BSER Ajmer board has published their class 10th standard sample question paper with important suggestions based on the new syllabus of Madhyamik or Secondary education, this year also published RBSE 10th Model Paper 2021 with practice model set for Rajasthani, Hindi, English, Mathematics, Sanskrit, Sindhi, Social Studies (EVS), Science, Urdu, Sanskrit Vishes, Sanskritam with all other related subjects of Rajasthan state class X standard new syllabus for paper-1 and paper-2 examination tests.
Latest Update: The Ajmer & Jaipur Boards are announced this year Madhyamik Shiksha 10th Class annual final exams are held between 6th to 27th May 2021, and those March to April session exams are held as per the same schedule by RBSE, and the RBSE 10th Class Model Paper 2021 also published to practice below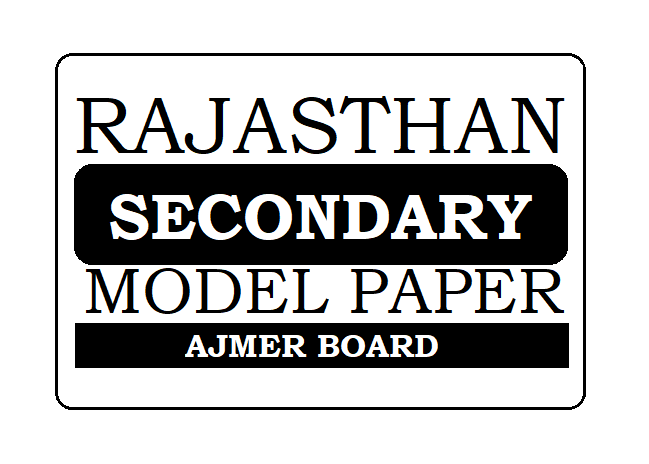 | RBSE Madhyamik Model Paper 2021 | Rajasthan 10th Question Paper 2021 |
| --- | --- |
| Name of the Board | Rajasthan Secondary Education Board, Ajmer (RBSE) Madhyamik Shiksha Mandal |
| Class | 10th / Matric / Madhyamik |
| Syllabus | Rajasthan, English, Hindi, Physical & Health Education, Social Science, Sanskrit, Science, Mathematics and etc… |
| Medium | Hindi, English & Rajasthani Medium |
| Category | Class 10, Model Papers, Rajasthan, RBSE |
| Academic Year | 2021 |
| Official Website | http://rajeduboard.rajasthan.gov.in/ |
Rajasthan Ajmer Board 10th Question Paper 2021
RBSE 10th Model Paper 2021
Every Madhyamik level Secondary student can download the study material and practice with a regular mock test using the RBSE 10th Question Paper 2021, the sample question bank is very helpful to guess the most important questions with answer solutions for theory, objective type multiple choice questions to SA, FA, Term-1, Term-2, Term-3, Quarterly, Half-yearly, Pre-final and Annual final Public examinations 2021.
Rajasthan state Ajmer Board government and private school class teachers also suggested and provided chapter wide and lesson wide most important question along with answer solutions for 8 mark, 5 marks, 3 marks, 2 marks, 1 mark with the half mark Bit Questions for the general and vocational course students based on new syllabus, we have suggested to everyone can contact your school subject experts to get lesson wide IMP questions through BSER 10th Question Paper 2021.
How to Download RBSE Madhyamik Question Paper 2021 Pdf Download
Every year the School Education Board of Rajasthan Ajmer board has provided sample question paper for practicing regular mock test to get a better understanding of regular & annual final exams of the board, here we have provided simple steps to download the Rajasthan Madhyamik Question Paper 2021
Download Ajmer board conducted past years old exam solved question paper as BSER STD-10 Model Question Paper 2021 to know about new exam-style with repeated questions of Madhyamik education, the Jnanabhumiap.in have shared Rajasthan 10th Model Paper 2021 Pdf with answer solutions from the following direct links, follow the links to download BSER Ajmer Board 10th Model Paper 2021.
Rajasthan 10th Class Question Paper 2021 (*Latest) Download
Rajasthan 10th Class Question Paper 2021 Download
RBSE 10th Class Question Paper 2021, Rajasthan 10th Important Question Paper 2021 Pdf Download
RBSE Hindi Model Paper 2021 for 10th Class Pdf Download
RBSE English Model Paper 2021 for 10th Class Pdf Download
RBSE Science Model Paper 2021 for 10th Class Pdf Download
RBSE Social Science Model Paper 2021 for 10th Class Pdf Download
RBSE Maths Model Paper 2021 for 10th Class Pdf Download
RBSE Sanskrit Model Paper 2021 for 10th Class Pdf Download
RBSE Urdu Model Paper 2021 for 10th Class Pdf Download
RBSE Gujrati Model Paper 2021 for 10th Class Pdf Download
RBSE Sindhi Model Paper 2021 for 10th Class Pdf Download
RBSE Punjabi Model Paper 2021 for 10th Class Pdf Download
RBSE 10th Class Model Question Paper 2021 All Subject Pdf Download
RBSE 10th Class Model Paper 2021 All Subject Pdf Download
BSER 10th Model Paper 2021 Download
RBSE 10th Question Paper 2021
Rajasthan Board 10th Model Paper 2021 Download
Rajasthan Madhyamik Question Paper 2021
Rajasthan Board 10th 10th & Praveshika Sample Model Paper 2021
Raj Board 10th & Praveshika Previous Paper 2021
Raj Board 10th (Main) Model Paper 2021 for Hindi, English, Mathematics, Sanskrit, Sindhi, Social Studies, Science, Urdu, Sanskrit
1. Hindi
2. English
3. Science
4. Social Science
5. Maths
6. Sanskrit Tl
7. Urdu
8. Gujrati Tl
9. Sindhi Tl
10. Punjabi Tl
11. Hindi-D-D
12. Science-D-D
13. Social Science-D-D
14. Maths-D-D
Raj Board 10th (Main) Previous Question Paper 2021
1. Automobile
2. Beauty-health
3. Health-Care
4. Information-Technology
5. Safety
6. Khudara TL
7. yatra-Paryatan