Telangana SSC /10th Class Model Question Paper 2021 Download with Solved Question Bank ( తెలంగాణ SSC ప్రశ్నపత్రం 2021 ) for Telugu Medium, English Medium, New Syllabus Theory, Objective, MCQ, and IMP Questions for Telugu, Hindi, English, Mathematics, Sanskrit, General Science, Social Science (EVS) and etc…
Directorate of Government Examinations, Telangana (BSE Telangana) Known as Board of Secondary Education, Hyderabad, students can download TS 10th Model Paper 2021 with answer solutions for the general and vocational course Telugu medium, English medium, and Urdu medium sample model papers with answer solutions suggested by the state subject experts and leading educational portals of Sakshi, Eenadu Pratibha, Namasthe Telangana, Manabadi, and ABN Andhra Jyothy.
Every year all leading educational portals of the state has published subject-wise new syllabus question paper with answer solutions for all government and private school students designed by leading private institutions of the state, every student can download Telangana SSC Model Paper 2021 with sample guess or mock test question paper from Manabadi, Schools9 and other educational portals along with IMP Questions of Telangana 10th Question Paper 2021.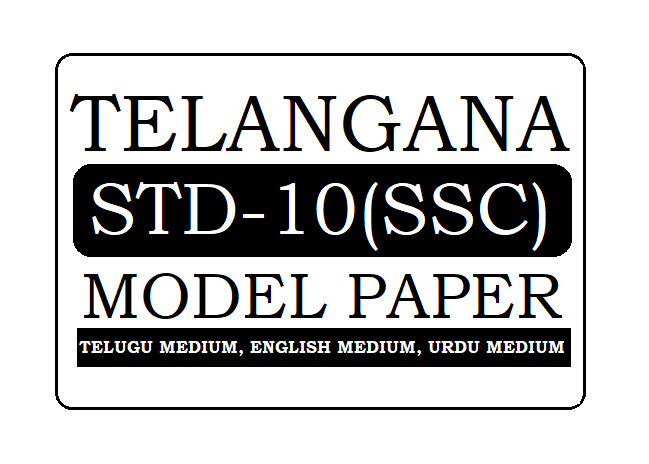 | | |
| --- | --- |
| Name of the Board | Directorate of Government Examinations, Hyderabad (BSE Telangana) |
| About | Telangana 10th Model Paper 2021 (TS SSC Question Paper 2021) |
| Name of the Class | Secondary School Certificate (SSC) Class 10th Standard |
| Medium | Telugu, English, Urdu and etc, |
| Official Website | https://www.bse.telangana.gov.in/ |
| Categories | Class 10, Model Papers, SSC, Telangana |
| Medium | Telugu Medium (TM). English Medium (EM), Urdu Medium (UM) |
| Course | Vocational and Regular |
Every day the state leading newspapers also published the latest mock test question paper with answer key solutions for both medium students of TM, EM and UM for Term-1, Term-2, Term-3, SA, FA, Unit Tests, Quarterly, Half-yearly, Pre- Final and annual final public examination tests 2021, every student follow the sample papers with class teacher suggested lesson wise most important questions and practice to get better score.
Download Telangana State Secondary Education Board Published latest new syllabus question paper for 1st language, 2nd language, 3rd language, Hindi, English, Mathematics, Social Studies (EVS), General Science  paper-1 and paper-2 question paper for guessing new question paper style with exam pattern for small answer, long answer, single word bit questions for Telugu Medium (TM), English Medium (EM), and Urdu Medium (UM)  theory, objective, and multiple choice questions 2021.
Here we have shared past years old exam Telangana 10th Model Question Paper 2021 for guessing most important questions for all subjects, every student can download the TS SSC Model Paper 2021 from the following direct links.
TS 10th Model Paper 2021, Manabadi BSE Telangana 10th Sample Paper 2021, TS 10th class Exam Previous Question Paper 2021, Telangana 10th Mock test Paper 2021
BSE Telangana 10th Model Paper 2021, Telangana SSC Model Question Paper 2021, Manabadi TS 10th Class Question Paper 2021
BSE Telangana 10th Telugu Model Paper I
BSE Telangana 10th Telugu Model Paper II
BSE Telangana 10th Hindi Model Paper
BSE Telangana 10th English Model Paper I
BSE Telangana 10th English Model Paper II
BSE Telangana 10th Mathematics Model Paper I
BSE Telangana 10th Mathematics Model Paper II
BSE Telangana 10th Mathematics Model Paper III
BSE Telangana 10th Physical Science Model Paper I
BSE Telangana 10th Physical Science Model Paper II
BSE Telangana 10th Physical Science Model Paper III
BSE Telangana 10th Biology Model Paper I
BSE Telangana 10th Biology Model Paper II
BSE Telangana 10th Biology Model Paper III
BSE Telangana 10th Social Model Paper I
BSE Telangana 10th Social Model Paper II
BSE Telangana 10th Social Model Paper III