IIIT Basara Online Application 2024 Status for Telangana RGUKT IIIT Basara Online Application Status 2024 (ఐఐటి బాసర ఆన్లైన్ అప్లికేషన్ 2024)Tracking by Reference ID & Mobile Phone Number…
The Eligible Students who have successfully submitted their Telangana State RGUKT IIIT Admission Application 2024 (తెలంగాణ RGUKT ఐఐటి బాసర అప్లికేషన్ స్టేటస్ 2024)online can check or track their status for acceptance or rejection, the RGUKT has rejected some of the applications from the received applications for various reasons like submitted with uncompleted details and not sending with supported certificates or documents.
The RGUKT has provided the service to check their application status online all applicants of IIIT Basara, the candidate who has submitted their application successfully they can check with using reference ID and mobile phone number or email ID of the applicant.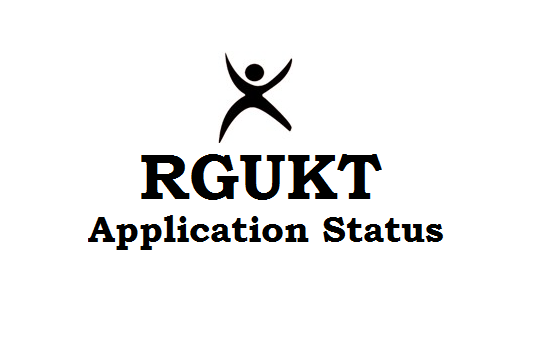 | Telangana RGUKT Online Application Status Check 2024 | IIIT Basara Application Status 2024 Track |
| --- | --- |
| Name of the Organization | The Rajiv Gandhi University of Knowledge Technologies (RGUKT) |
| Name of the Campus | IIIT Basar |
| Name of the Course | 6 years B.Tech Programme |
| Application Status | No Status Yet |
| Category | AP, RGUKT, Telangana |
| Academic Year | 2023 |
| Official Website | http://www.rgukt.in/ |
Telangana RGUKT IIIT Basar Online Application Track 2021
TS RGUKT IIIT Basar Application Status 2024 Check
Here we have provided a simple process to check TS RGUKT IIIT 6 years B. Tech Programme Admission Application Status 2024 tracking for Telangana Basar official website, ( TS RGUKT IIIT బాసర అప్లికేషన్ స్టేటస్ 2024 ట్రాక్)follow the steps to track your status online.
Visit the IIIT Basar UG Admission 2021 official webpage at https://admissions.rgukt.ac.in/adm/ug
Select and proceed with the link about "track your application status"
Now you have reached the main page of RGUKT Basar Application Status 2024 Check
Enter your submitted application number and registered mobile phone number, then enter the captcha code and submit
Now you have seen your application details with a massage of status
That's it you have successfully tracked the status of RGUKT IIIT Basar UG admission application for approved or rejected with the reason, in case of rejection with any reason you can rectify with resubmitting of supporting certificates and documents as per RGUKT norms.
IIIT Basara Online Application 2024 Status
The Jnanabhumiap.in has advised you to contact the RGUKT UG admission helpdesk to get complete solutions with guidelines to resolve the issue, they will help you to submit your application without errors.
Follow the link and enter the required details to get the application status, and the RGUKT is sent all the latest alerts to register the mobile number for the submitted application.
What is the official website for downloading telangana RGUKT IIIT Basara application Status 2024?

The candidates who are searching for notifications about Telangana RGUKT IIIT Basara application Status 2024 must visit the official website here: http://www.rgukt.in/

May I know the detailed notification for Telangana RGUKT IIIT Basara application Status 2024?

The Eligible Students who have successfully submitted their Telangana State RGUKT IIIT Admission Application 2024 online can check or track their status for acceptance or rejection, the RGUKT has rejected some of the applications from the received applications for various reasons like submitted with uncompleted details and not sending with supported certificates or documents.

How can I check the application status of Telangana RGUKT IIIT Basara application Status 2024?

The Candidate who has submitted he/She RGUKTCET application 2024 can check their registered application status for accepted or rejected, the TS RGUKT can reject some applications with are submitted with uncompleted details and not send with supported certificates or documents.

How to check Telangana RGUKT IIIT Basara application Status 2024 application Status?

Every student will get a confirmation message through SMS to the registered mobile phone number and email address. Select the "View application"option located at the print application and then log in with Your username and password.

Where can I check the detailed notification of Telangana RGUKT IIIT Basara application Status 2024?

The Jnanabhumiap.in advised before going to apply everyone can visit the official website of RGUKT IIIT Basara application Status 2024 portal and read the detailed notification with complete details for online registration at https://admissions.rgukt.ac.in/adm/ug