TSMIV: Telangana Mana Isuka Vahanam Portal Introduced for Sand Booking, Order Status & Tractor Registration Online at https://tsmiv.cgg.gov.in…
Telangana State Government has introduced the new TSMIV portal to book Sand online. Previously TS Sand Booking facility was available from the TSMDC Portal of https://sand.telangana.gov.in and http://tsmdc.telangana.gov.in. From now the TS Sand Booking with Status Track is available from the TSMIC Portal of https://tsmiv.cgg.gov.in.
Mana Isuka Vahanam
Department of Mineral Development Corporation, Telangana, has introduced the Mana Isuka Vahanam (మన ఇసుక వాహనం) Portal to deliver Sand Quickly. TSMIV provides transparency of bookings and delivers Sand within 24 hours of booking. Citizens of Telangana can book Sand for their constructions.
Below we guide you for New Customer Registration Process, Procedure to Book the TS Sand Online, Tracking Status of the Sand Bookings, and Vehicle Registration Process.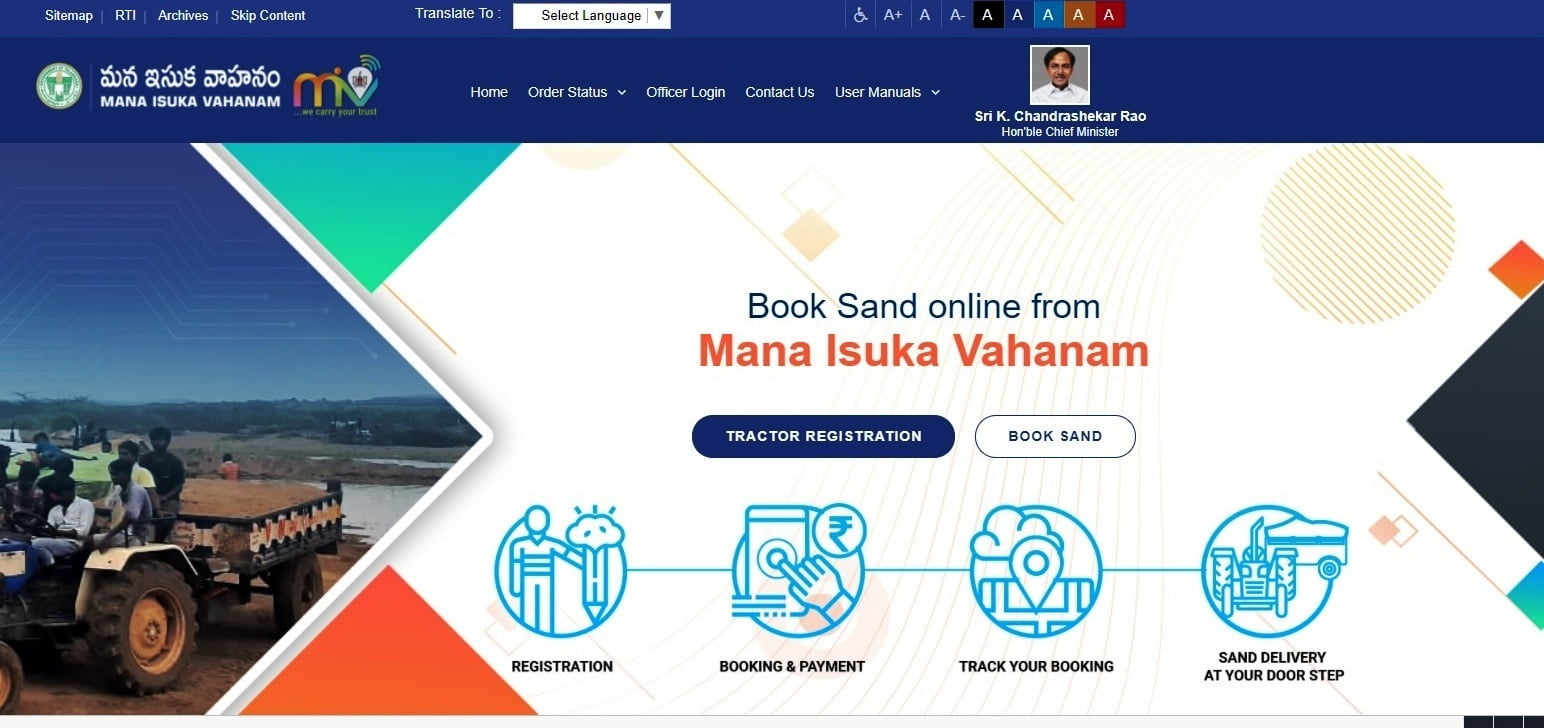 TS MANA ISUKA VAHANAM – మన ఇసుక వాహనం
TSMIV
TSMIV is the short form of Telangana Mana Isuka Vahanam, and the Portal introduced In alignment with the e-Governance initiatives of Telangana State. Department of Mines and Geology had embarked on an ambitious mission of streamlining the entire process of Sand delivery management system through tractor registrations, online booking of Sand and its delivery, real-time monitoring and tracking of sand booking, decision making through dashboards, grievance redressal, etc.
TSMIV Customer Registration on Mana Isuka Vahanam
To Book Sand, everyone needs to register online as a customer on the MIS Portal, follow the simple guide to register on the Portal in a simple way.
Go to TSMIV (Mana Isuka Vahanam) Official Website https://tsmiv.cgg.gov.in/home.
Than you have reached into the homepage, now you have seen multiple options alomg with "Book Sand" option.
Now you have redirected into the Sand Booking Page, In this page you have seen login page with "If you are a new customer, please register here" Proceed with that.
You have reached registration page successfully, Enter your mobile phone number to register your self.
Enter the OTP and Verify the user, and Create 4 Digit PIN for your Login Password.
TSMIV Login
Registered users only can login in to Telangana Mana Isuka Vahanam Portal at https://tsmiv.cgg.gov.in.
Go to the homepage, and select "Sand Book' Option, and Proceed to reach the login page.
Enter your registered Mobile Phone Number, 4 Digit PIN and Secure Capcha to login.
After Successfully login using the Credincials you will reached into the dashboard.
Mana Isuka Vahanam Sand Booking
Open Telangana State Mana Isuka Vahanam MIV official website: https://tsmiv.cgg.gov.in.
Proceed with the "Book Sand" option located on the homepage of MIV portal.
Login by Uinsg your Mobile Phone Number & 4 Digit PIN to Login.
You have Seen "Book Sand" option on the menubar of the dashboard, select and proceed.
Now you have seen the Booking page, fulfil with customer details like information of the listed.

Customer Name.
Mobile Number
Alternative Mobile Number.
Email ID.

Select Delivery Address Details like as below.

Landmark.
District.
Mandal. Village.
Pin Code

Select the Sand reach, Quantity, Usage Type, and Date of Delivery.
Select the Terms and Conditions and Verify all the details and click on the Book Sand.
Make the Payment by selection Payment Gateway, like Internet Banking, Credit Card, Debit Card, and UPI.
After Successful payment you will get a acknowledgment, Take a printout for future references.
TS Sand Booking Status Track
To track TS Sand booking status online, follow the steps to get your Telangana MIV Status by using the acknowledgement number.
Visit the Talangana MIV Portal and Select Order Status option from the menu options.
Enter the Vehicle Number or Mobile Number (Registered Phone Number).
Proceed with the get details option, then you have seen the status of the booking.
How to Register Tractor on TS Mana Isuka Vahanam Portal
Tractor owners can register their vehicles to transport Sand from the stockyards on మన ఇసుక వాహనం. Those who are interested in registering their Tractor/Vehicle can follow the steps for registration on the TSMIV portal.
Go to the homepage of the portal, and select Vehicle Registration option located under the Registration Section.
Now the Vehicle Registration Form is opened to regsiter.
Select if you are a new tractor owner.
Enter your Mobile Number and Verify with OTP to Validate.
Create 4 Digit PIN Number for Login Password, and confirm it by re-entering.
In the next Step the Vehicle Registration Form is opned to enter requried details of.

Owner Name.
Address, District.
Mandal.
Village.
PIN Code.

Enter the Bank Details as per Account Holder Name, Bank Name, Bank Branch Name, IFSC Code, Bank Account Number, and Upload the Bank Passbook front page scenned copy.
Finally the Tractor or vehicle registration process successfully completed.
Once verify the details you will get approvel to transport Sand from the Sockyerd.
How to Check Vehicle Details or Tracktor Status Track
Who has registered Successfully can track the vehicle status along with complete details online. Below steps guide to track Vehicle details online from the TSMIV Portal.
Visit the TSMIV Portal, and Go to the Tractor Registration page and Login by using the Credincils like Phone Number & 4 Digit PIN along with Security Capcha.
Now you have reached into the Dashboard of the Vahicle owner, in the dashboard you can seen complete details of the vahicle along with transported order's, payment statys, completed trip's, and etc.
TSMIV Phone Numbers for TS Sand Booking Helpline Numbers
| | |
| --- | --- |
| Name of the District | Call Center Number |
| Jagtial | 8801715711/9160202356 |
| Peddapalli | 08728-223310/18 |
| Nalgonda | 08682-244150/244151 |
| Bhadradri Kothagudem | 08744-241950 |
| Jogulamba Gadwal | 9392350994 |
| Mancherial | 9100416718/9618756718/7386276718 |
| Karimnagar | 918897476247 |
| Narayanpet | 8919761750 |
| Mahabubnagar | 08542-241165 |
TSMIV Helpline Numbers
Download the User Manual to get complete information for Mana Isuka Vahanam (మన ఇసుక వాహనం) registrations & Status Tracking Online.