Bihar Board 10th Model Paper 2021 Pdf Download ( बिहार बोर्ड 10th मॉडल पेपर 2021 ) for BSEB Matric Model Paper 2021 for Hindi, English, Urdu Medium Hindi, English, Sanskrit, Mathematics, Science and Social Science solved question paper with practice guess paper….
Bihar School Examination Board (BSEB) is announced the BSEB 10th Model Paper 2021 to all medium government and private school students in subject wise for all Unit Tests, Term and final examination tests, and the Bihar Board 10th Model Paper 2021 is download available for all mother languages (Hindi or Urdu or Bangla) and second Indian languages of Matric or class X grade EM, HM, UM and other medium students.
All leading institutions of the state and subject experts also provided Bihar 10th Model Paper 2021 with sample question paper for all subjects of general, vocational and curriculum course students for Paper-1 and Paper-2 suggested questions with practice paper of small answer, long answer and multiple choice questions of BSEB Matric exams 2021.
The BSEB is provided class 10th study material with practice questions for all subjects and past years old examination solved question paper with important suggestions in set wise with guessed questions also, we have suggested to all student can download Bihar Board 10th / Matric Model Paper 2021 Pdf and study with suggested important questions.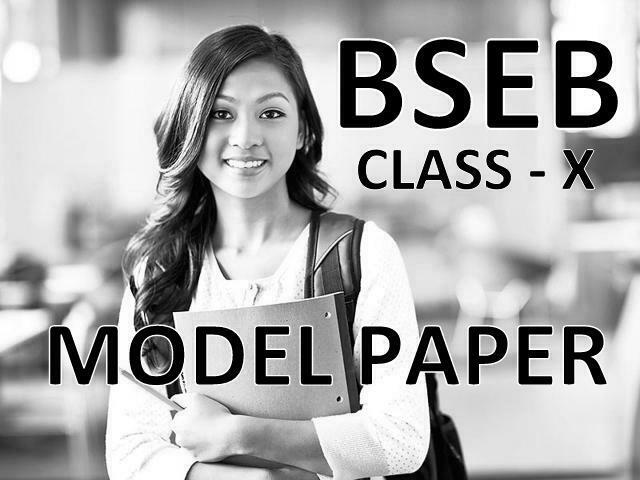 | | |
| --- | --- |
| Name of the Board | Bihar School Examination Board (BSEB) |
| About | Bihar Board 10th Model Paper 2021 Pdf |
| Class | 10th Class / Matric |
| Subjects | Hindi or Urdu, Second Indian Language, English, Mathematics, Science, Social Science and etc… |
| Medium | Hindi & English Medium |
| Category | Bihar, Class 10, Model Papers |
| Official Website | http://biharboardonline.bihar.gov.in/ |
Every BSEB 10th student can easily guess 8 mark, 5 mark, 3 mark, 2 mark, 1 mark with half mark important questions with answer solutions for Hindi, Urdu, Bangla, Sanskrit, Science, Social Science, English, Mathematics, Arabic, Persian, Maithili and other subjects in chapter wise for all lessons of the Matric.
The Patna Board is provided the model question paper for all MIL and NIL subjects at official website of Bihar School Examination Board, and various educational websites and experts are published sample question paper with old exam previous paper Pdf with solutions as BSEB 10th Model Set 2021, we have also shared all study material with practice question bank from the following direct links.
Bihar Board 10th Model Question Paper 2019, BSEB Matric Model Question Paper 2019 New fresh latest
1. Matric Model Set 2019 Mathematics
2. Matric Model Set 2019 Fineart
3. Matric Model Set 2019 Dance(Opt)
4. Matric Model Set 2019 Advance Mathematics (Opt)
5. Matric Model Set 2019 Economics (Opt)
6. Matric Model Set 2019 Arabic (Opt)
7. Matric Model Set 2019 Arabic (Sil)
8. Matric Model Set 2019 Bangla(Mt)
9. Matric Model Set 2019 Persian (Sil)
10. Matric Model Set 2019 Persian (Opt)
11. Matric Model Set 2019 Sanskrit (Sil)
12. Matric Model Set 2019 Science
13. Matric Model Set 2019 Bhojpuri (Sil)
14. Matric Model Set 2019 Home Science (Opt)
15. Matric Model Set 2019 Maithili (Mt)
16. Matric Model Set 2019 Maithili (Opt)
17. Matric Model Set 2019 Mt-Hindi
18. Matric Model Set 2019 Music (Opt)
19. Matric Model Set 2019 Urdu-Mt
20. Matric Model Set 2019 English
21. Matric Model Set 2019 Bhojpuri (Sil)
22. Matric Model Set 2019 Home Science (Opt)
23. Matric Model Set 2019 Maithili (Mt)
Bihar Matric Sample Model Paper 2021 Patna Board
01 Bangla
02 Maithili
03 Persian
04 Social Science
05 Math
06 English
07 Sanskrit
08 Urdu
09 Science
10 Arabic
11 Hindi
12 Mathmatics
13 English
14 Social Science
15 Hindi
16 Science
17 Urdu
18 Sanskrit
Bihar Board 10th Previous Question Paper 2021
Bihar Patna Board Matric Model Paper 2021
BSEB Matric Model Question Paper 2021
BSEB 10th Subject Wise Model Paper 2021
1. Physics
2. Chemistry
3. Mathematics
4. Biology
Bihar Matric Sample Model Paper 2021